Nearby Coastal Towns – Southport, North Carolina
June 1, 2018
Beth Burgee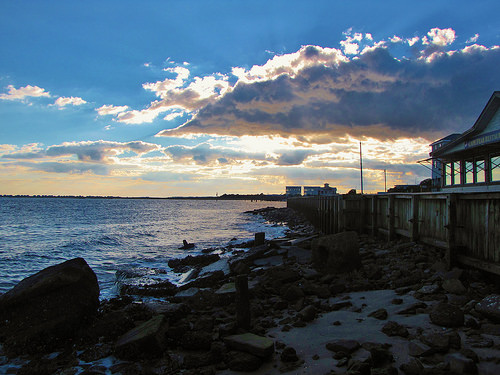 It's about that time again! Now that we've kicked off the start of summer, we're cruising about 30 minutes south to Southport, North Carolina.  Also located in Brunswick County, Southport was named "America's Happiest Seaside Town," in 2015 by Coastal Living Magazine. This picturesque town takes you back to a simpler way of living. Decorated with history, surrounded by scenic views and painted in maritime heritage; Southport is known for their quaint atmosphere and southern charm.
Spending the day in Southport will have you reveling in simple pleasures as you take in the stunning waterfront views and a culture rich in history and southern charm. While life in Southport takes you back to a simpler way of living, there are plenty of activities to fill your day while you're visiting this coastal town.
HISTORIC SOUTHPORT
Founded in the mid-1700's, Southport is surrounded by centuries of history in every direction. Explore the town via walking or bus tours, or venture out on your own to one of the town's various museums and sites of significance. Overlooking the mouth of the Cape Fear River, Fort Johnston-Southport Museum has exhibits, original documents and historical artifacts about Fort Johnston on display.
Continue your history tour as you wind your way down the tree-lined streets dotted with churches and homes dating back to the 1800's. Landmarks such as City Hall, the Old Brunswick County Jail, Old Smithville Burial Grounds, and the River Pilots Tower are all within walking distance and will have you enraptured by the heritage and culture of this historic town.
As you're exploring Southport, be sure to make your way to the waterfront. Southport sits on the coast of Southeastern, North Carolina, where the Cape Fear River meets the Atlantic Ocean. Their 9-acre Waterfront Park overlooks the Cape Fear and includes a public fishing pier, shelters, benches, swings and picnic tables.
BOATING IN SOUTHPORT
Southport is a mariners paradise. Located on the edge of the Intracoastal Waterway, the Cape Fear River, the Elizabeth River and the Atlantic Ocean, Southport is surrounded by water. Whether you're looking to explore via kayak, paddle board, or boat, there are multiple companies available that offer hourly or weekly rentals for equipment. Rather sit back and enjoy a guided tour or boat cruise? Endless Summer Days Tours is one of the many charter boats in the area offering a unique sailing adventure aboard their vessel.
EXPLORE HOLLYWOOD
Southport has also served as the backdrop to several well-known movies over the years. Several walking and vehicular tours are offered that show visitors the sites that made Southport famous. Popular movies such as "Safe Haven", "Nights in Rodanthe", "A Walk to Remember" and more have all called the streets of Southport home while filming.
SHOPPING & DINING IN SOUTHPORT
Shopping in Southport offers a unique, eclectic and memorable experience . Well known for their array of shops and boutiques that specialize in vintage coastal treasures, you could spend the majority of the day sorting through art, pottery, home decor and other specialty items. Popular among antique fans, almost all antique stores can be found in a central location in downtown Southport.
Southport has no shortage of restaurants to please everyone in your group. Despite it's small size, downtown offers more than 30 unique restaurants to choose from. Start your day off with coffee and a pastry at Burney's Bakery before venturing around town for your morning excursion. By the time lunch and/or dinner rolls around you'll be able to choose from a variety of waterfront restaurants, local seafood shacks, barbecue joints, and casual sandwich shops that offer unique flavors and fresh, local ingredients.
WHAT'S GOING ON IN SOUTHPORT?
Located less than 30 miles from Brunswick Forest, Southport is a must-see town on our list of nearby coastal towns. Popular among visitors and residents, Southport has no shortage of events happening during the summer months. Waterfront markets, summer concerts, parades, and holiday events are among a few of the many happenings coming up in this small coastal town. Check out their full events calendar to see what they have going on during your visit.
*Insiders Tip*  – Home to North Carolina's 4th of July Festival, you don't want to miss out on the opportunity to experience Southport on Independence Day. Dating back over 200 years, this small town goes big for the 4th. Grown from colonial times, today's festival draws between 40,000 to 50,000 people each year and offers an array of activities and fun for the entire family!
866-831-8289