Paddling To A Good Life
March 7, 2019
ISWebmaster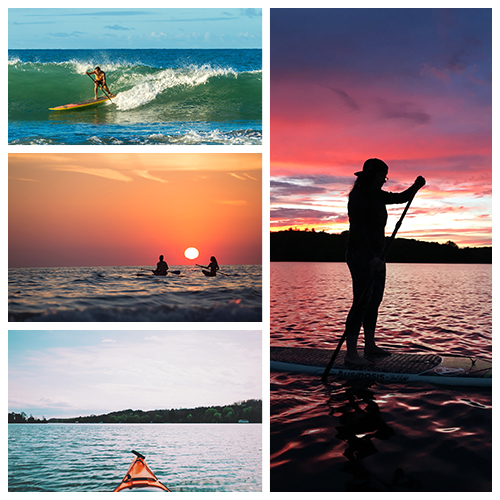 There's a sense of adventure that you feel when you're on the open water. For water sport enthusiasts, activities like kayaking and paddle boarding are very popular in our area. As a community that promotes your active lifestyle choices, Brunswick Forest has a central proximity to plenty of locations for both.
Bordering on the fringe of the Brunswick Forest area lies Town Creek. This gorgeous area of natural tributaries eventually melds into the Cape Fear River and is home to many species of natural wildlife. It's prime country for kayakers, canoers and paddle boarders!  This location offers an innovative river launch area to make the process easier, allowing for more time to enjoy the natural beauty of where you live. A canvas of nature that eventually works its way to the Atlantic, and it's yours for exploring!
If venturing closer to the ocean is more of your thing, our local area has all that you need. Located in the Cape Fear River Basin and not far from Carolina Beach lies Zeke's Island Reserve. Just across from Kure Beach and Fort Fisher this lagoon-like tidal complex is one of the most well-known spots for paddling activities. Marsh grass pokes up from the water providing shrimp, crab and other forms of marine and avian life with a prime nursing ground. Traveling to Zeke's Island is an excellent way to spend your day paddling alongside nature.
For those looking for a more inland experience, Greenfield Lake can provide watercraft enthusiasts with a good time as well. Known for its park and amphitheater, Greenfield Lake is a wealth of cypress trees, flowers and local bird species.
River Road Park, as the name implies, lies nestled beside the Cape Fear River in New Hanover County. Lots of dredged areas and riverside marshlands provide ample opportunity for exploration. Aside from the usual maritime traffic bustling up and down the Cape Fear, there isn't much to get in the way of your day of aquatic relaxation. Difficulty here ranges from easy to difficult depending on where you wish to go. Keep mind of the tides while you're out on the river, and you're paddling experience will be delightful.
Winding its way into the Cape Fear River is the nearby Brunswick River, which provides an easy and mostly hazard-free place to paddle. There's a scattering of houses on the Western bank of the river, but aside from a few scattered trees the water is free and clear. Be mindful of the current during especially windy days and use caution during waterfowl hunting seasons.
With several natural locations on the Cape Fear River, Atlantic Ocean, and all the marshlands and creeks in between, Southeastern North Carolina is a water sports paradise. Paddle tour groups and excursions are also available for those looking for a guided adventure. If you're looking to paddle close to home, Brunswick Forest gives you all that you need. For a complete list of paddling areas check out:  https://www.wilmington-nc.com/wilmington-nc-kayaking.html