The 9th Annual Cardboard Boat Regatta – 2019
April 26, 2019
ISWebmaster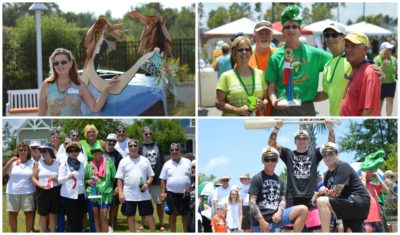 Yo ho, yo ho, it's off to Hammock Lake we go! The 9th annual Cardboard Boat Regatta at Brunswick Forest is Saturday May 4th, and residents from all our neighborhoods will be gathering to see whose boating team reigns supreme! An exciting Brunswick Forest tradition, this event focuses on teams coming together to build homemade crafts and then race them across Hammock Lake.
The race course will begin at a designated start line just off the beach nearest Shelmore Way. From there, boats will make their way past two buoys and back to the beach. For all of your safety concerns, there are no alligators in the lake and there is a safety boat ready for rescue. Plus, life jackets are required! The only accepted materials for building these vessels are everyday items such as tape, glue, sealant and cardboard. Each team will make use of paddles or oars to navigate their homemade craft around the course. No motorized vessels are permitted in this race!
You never know which team is going to sail to victory or sink, which is all part of the fun. More than anything, it's a chance for Brunswick Forest friends and neighbors to show off their community spirit and invoke some friendly competition. Some of the teams in this year's competition include the Walden Warriors, Leeward's Island Pirates, Purple Flamingoes and the U.S.S. J.W. Poole. Competition looks both fierce and colorful this year! Teams can customize their craft and decorate it however they wish to! Builders, rowers and participants don't need to be part of a specific neighborhood to race, but they must be residents of Brunswick Forest.
There will also be a ton of fabulous prizes for several superlatives such as community spirit, fastest time and the most creative vessel. Cash prizes are generously sponsored by Brunswick Forest, Fountain Financial Associates, Logan Homes, Lowes Foods and other supporters!
For the registration form and more information, click HERE.
Here is a highlight video from the 2018 Cardboard Boat Regatta!
19149
false
true
true
false
true
true
false
auto
false
ease-in-out
300
auto
false
0
true
false
%curr% of %total%