The October Homecoming Weekend
September 30, 2020
ISWebmaster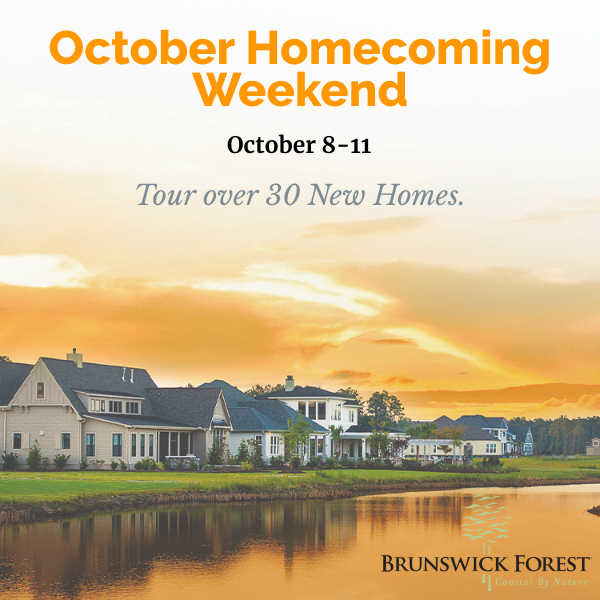 For the past four months, Brunswick Forest has become a real Southern living vacation destination for dozens of aspiring homeowners. The agents and real estate team here have done a great job hosting our Coastal Showcase Weekends for the summer, and now that tradition is continuing onward into our Fall Homecoming Weekends! Fun times are heating up at Brunswick Forest. The first Fall Homecoming Weekend will be held in October and is certainly not to be missed.
Part of visiting a master-planned community is the excitement of getting to be a part of something larger than yourself. When visiting Brunswick Forest during one of these events, you are essentially experiencing what life is like from a resident's perspective before you even purchase a home. These special weekend events are like your own private vacation, combining a warm atmosphere that makes you feel at home with plenty of productive and fun activities. You might find yourself making new friends or even finding a neighborhood that catches your eye. Who knows, you might just realize that your dream home has been waiting for you here the whole time. Quit reading about the life you could be living in a brochure and make it a reality! Here is what is on the itinerary for October!
Rise and shine! It is time to get your weekend in paradise off to a great start! The official showcase of homes will open at 9 am, and guests can continue touring until 5 pm. Do not forget to bring your "Passport to Paradise" and follow along with the Showcase of Homes booklet! This booklet will be key to hopping around from house to house during the event. There will be over 30 homes open for you to explore. From 11:30 am to 1:30 pm you will get to enjoy a tasty lunch sponsored by one of Brunswick Forest's building partners, Mungo Homes. Lunch can be enjoyed in the Edgewood model, and dessert will be right next door in the Middleton model. Mungo Homes is excited to meet you and answer any questions you might have about their floor plans and available move in ready homes. Logan Homes and State Farm Insurance agent, Josh London, will be holding a special welcome reception ceremony complete with a wine tasting courtesy of Bridgewater Wines, and. Music will also be served up by local guitarist Monica Jane. If you want to start your weekend off the right way, this is it!
• Saturday, October 10th:
Once again, the Homecoming Weekend home tours will officially open at 9 am and remain open until 5 pm. A second builder lunch will be sponsored by Legacy Homes at their lovely Cypress II model. The lunch will start at 11:30 am and continue up until 1:30 pm. It will serve as the perfect boost to get you ready for more home tour action! Top off the evening with an absolute crescendo of an event with the Liberty Homes meet and greet cocktail hour from 4 pm to 5:30 pm. There will be live music from a local pianist for your entertainment and delicious beverages, and Autumn themed appetizers.
Round out the weekend by taking one last tour of all the homes that Brunswick Forest has to offer. The real estate team will have a cooler handy at the Welcome Center, and tasty snacks that are great on the go. These refreshments will be available from 9 am to 5 pm. So, if you need one last boost to get you through the day, you will have it ready to go.
In addition to all these swell activities, you can also spend your time doing a whole host of other adventures. Brunswick Forest will be providing additional activities all weekend long so you can immerse yourself in the local area. This includes a pickleball session at the House of Pickleball, a tour on the historic Cape Fear River alongside downtown Wilmington, or a serene walk-through at Airlie Gardens. You can also learn more local recipes with another live-cooking demonstration sponsored by Kent Homes. And what better way to get a feel of the Old South than by enjoying a horse-drawn carriage ride through historic, downtown Wilmington. Kickoff fall with the next step in your home discovery experience. If you have more questions be sure to contact the team at 855.983.9579