Tell Your Clients to Join the Fun: Bring Your Clients to Coastal Showcase Weekends!
July 13, 2020
ISWebmaster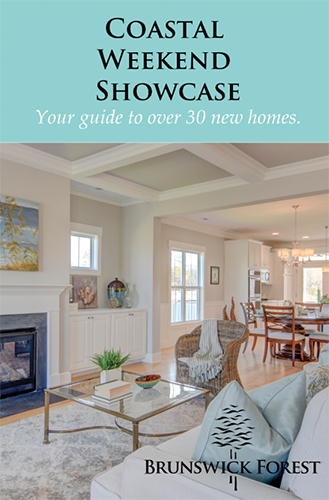 For the months of July, August, and September, Brunswick Forest is holding special Coastal Showcase of Homes weekends. While these weekends are structured differently than Brunswick Forest's past sales events, they are a great resource for your client to learn about our Coastal By Nature® lifestyle and what Brunswick Forest has to offer.
The greater Wilmington area has a lot to love about it, from historical landmarks and architecture to the serenity of nature surrounding its coastline. Not to mention its close proximity to some of the most beautiful beaches in the entire country, complete with all the shopping, dining, and relaxation you could ask for. Taxes are lower than in the Northeast and Midwest, and the mild weather allows for near year-round outdoor activity. It is no wonder so many aspiring homeowners looking to move have chosen Brunswick Forest as their dream community. As a broker, you know that providing great information to your client is essential for them to make the best choice possible. The best way to discover if a certain way of life is the right one for your client, is to have them experience it for themselves.
That is what the Coastal Showcase Weekends are all about, creating an unforgettable experience for your clients so they will know exactly what to expect when choosing a life at Brunswick Forest. Each weekend will include lunches and cocktail receptions hosted by Brunswick Forest's building partners. Clients have the option to indulge in a variety of outdoor activities, such as kayaking at Hammock Lake, taking a pickleball lesson at HOP, and learning how to prepare Coastal Carolina seafood from Cape Fear National's very own Chef Scott. Best yet, there will also be a Coastal Homes Showcase where your clients will get to explore over 30 beautiful model homes in different neighborhoods. It is Brunswick Forest's pleasure to give more options to make your client's feel like they have the information they need, and your experience as a broker much smoother. The weekends have already proven a massive hit; the June event eclipsed 29 sales, almost half of which were brought in by outside realtors! If you would like more information about working with Brunswick Forest, check out our Co-Op Commission Policy.
So, what are you waiting for? Learn more about all of the upcoming Coastal Showcase Weekends at Brunswick Forest by contacting the Broker Relations Specialist Reid Myers or contact the real estate team at: 855.983.9579. If your client is unable to make the upcoming sales event in July, they still have two more opportunities this summer come and visit this master-planned community and all it has to offer.