Pickleball – Fun for Everyone
February 7, 2019
ISWebmaster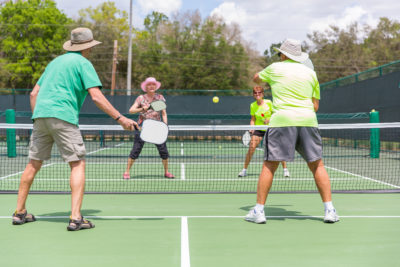 What is pickleball? The name is certainly bizarre for a sport, but it's no stranger to the residents here at Brunswick Forest! Pickleball is fun and provides healthy recreation. It's unique because it combines elements of tennis, badminton, and table tennis. It's just one of many activities that make us a valued active adult community. But why has pickleball become so popular?
Pickleball is fun for the whole family. It's a versatile activity that can be played both indoor and outdoor. There is a strong social bond that is created between players, bringing residents in a community closer together. Pickleball can be enjoyed casually, but many people also enjoy the fact that it can be played competitively. Pickleball has a little something that everyone can enjoy, especially for people that already enjoy tennis or racquetball.
How did pickleball get its name? There really isn't a clear story. Whatever the reason might be, it is clear that creators Joel Pritchard, Bill Bell, and Barney McCallum wanted to make a game for their kids to spend their day outdoors. Originally created using homemade equipment in 1965, pickleball has now evolved into an activity that over 2.5 million Americans of all ages enjoy.
You can play pickleball with a single friend or choose to play doubles for an added challenge. Each player uses a paddle made of composite materials. The pickleball itself has holes in it like a whiffle ball. The object being to keep the ball in play until a point is made by the serving team. This is a game that can offer high energy matches, and in team play requires coordination between teammates.
If you have pickleball on the brain, then the courts at Brunswick Forest are for you! Our residents enjoy the convenience of having specially designed pickleball courts at multiple locations including our Fitness Center and at Cape Fear National. Looking for a place to play that's not always exposed to the outside elements? Look no further, because Brunswick Forest is only a short ride away from the House of Pickleball. The HOP has six indoor pickleball courts for you and your friends to make use of. With rubberized cushioned courts, indoor lighting, and a climate-controlled environment, you have everything you need to play hours of pickleball year-round.
Out of all the amenities offered here at Brunswick Forest, the pickleball facilities have become one of the most popular! With its ease of play, you can see why so many enjoy this exciting sport. If you haven't played pickleball before, we encourage you to give it a try. You may just end up finding a new way of enhancing your active lifestyle.