A Helping Hand: Reid Myers is Your Brokers Contact for Brunswick Forest!
June 23, 2020
ISWebmaster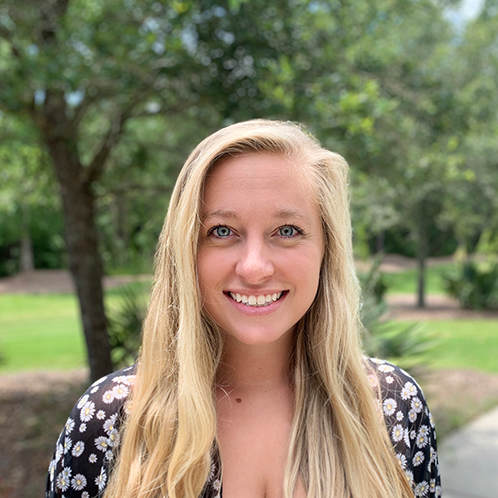 Brokers can now look forward to the cheerful, helpful, professional assistance from Reid Myers, Brunswick Forest's new Broker Relations Specialist! Reid has worn many hats, absorbing all possible knowledge to make her the best candidate for this position. In addition to helping create broker resources, she has also coordinated on-site events as well as off-site events. She is personable, friendly, and ready to help brokers in any way that she can.
Reid started working for Brunswick Forest in September of 2019 and has already become like family to the team. "I'm originally from the Lake Norman area, but have lived in Wilmington for the last nine years," Reid tells us. For Reid, Brunswick Forest stands out to her as having an unmatched sense of community. "From the different events the residents put on to a variety of clubs that they start, everyone finds a place here and makes very close friends. People are also always happy to talk to prospective residents about their experience here, which I think is a true testament that they truly love where they live."
Brokers play a pivotal role for the success here at Brunswick Forest. Broker relations can involve anything from helping to set up tours for your client at Brunswick Forest, to Bringing Brunswick Forest to your broker team with an on-site presentation. "It's really all about doing the heavy lifting for all the brokers who choose to work for us, so they have an easier time helping their clients," Reid tells us.
"My role as a Broker Relations Specialist is simply to provide brokers with the tools we need to sell in Brunswick Forest. I am here to make sure they have the resources that their clients need, and they know what Brunswick Forest has to offer," Reid says. She notes that there are plenty of helpful digital materials for brokers and their clients to have a well-rounded sense of the community. "Recently we have put together a variety of resources for brokers to help educate their clients from home. Two of the most helpful are our Community Album, which goes through life in Brunswick Forest, from the clubs and resident events, to the amenities and different neighborhoods. We also have our Showcase of Homes Book, which stays up to date on our current move in ready inventory." Brokerages that wish to learn more about the community can set sales meetings with Reid and the Brunswick Forest team. "We also offer to tour brokers so they can familiarize themselves with Brunswick Forest, see our models and our amenities, and learn for themselves what makes Brunswick Forest is a great place to call home. Even if someone has toured with us before, we recommend they come again. There are always new neighborhoods coming up, new models, and new amenities or additions to the Villages."
Speaking of an easy experience, there are several different ways that a broker can work with Brunswick Forest. "You can register your client with us, through myself, one of our sales executives, or on our Broker Referral Tab online." It can be as easy as giving your clients name to Brunswick Forest and sending them over for a visit. A client can also be accompanied by a broker to the Brunswick Forest Welcome Center. In any case, there a lot of options to choose from. "Brokers can expect to work with a team of professionals that are passionate about what they do," Reid exclaims.
"The best part of what I do is getting to thank brokers for introducing new families to Brunswick Forest and congratulating them when they help a family find their home here. We also show our appreciation every year at our Broker Bash. Real estate agents are a huge part of our success at Brunswick Forest, so we love to show our appreciation and make the process as welcoming as possible for them," Reid concludes. You can contact Reid or any of the Brunswick Forest agents by calling 855.983.9579