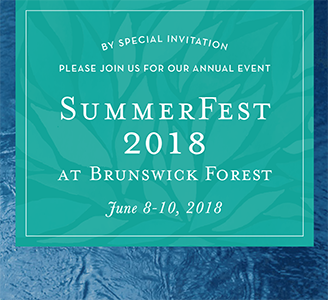 Summerfest
June 8, 2018
YOUR SPECIAL EVENT WEEKEND INCLUDES LUXURY ACCOMMODATIONS FOR TWO, PLUS THESE EXCITING EVENTS:
THURSDAY
Early Check-In- Summer Libations
at the Welcome Center
SATURDAY
Tennis, pickleball and golf clinics
Lunch in one of our model homes
Annual cardboard boat regatta
Coastal Celebration: dinner poolside
& live reggae music
FRIDAY
Lunch in one of our model homes
SUP and kayaking demos on
Hammock Lake in the afternoon
Dinner in downtown Wilmington
along the riverfront
SUNDAY
Lunch in one of our model homes
One of three Pools at Brunswick Forest
ALL WEEKEND
Personalized Tour of Brunswick Forest real estate offerings, including a complete
inventory of fabulous home sites, model homes and move-in ready homes.
Sightseeing Excursions of the area's beautiful beaches and historic Wilmington.
Full Property Owner Privileges for all of Brunswick Forest's fabulous amenities.