Success is in the Sales: Brunswick Forest is Here for You!
June 15, 2020
ISWebmaster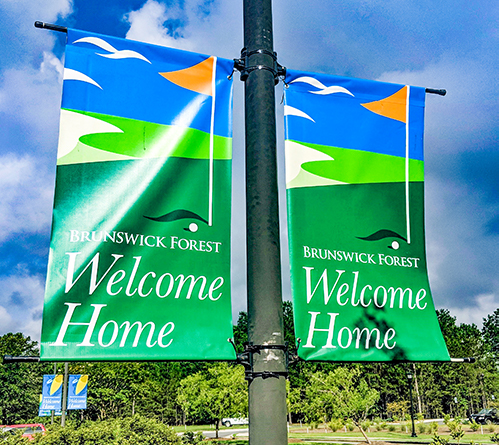 For real estate, success is often measured in how many new residents have purchased their dream home. The number of sales is a good indicator of progress in a master-planned community, and, despite the challenges 2020 has brought, Brunswick Forest has been very successful in that regard. Here are some ways that Brunswick Forest is helping to promote a good sales environment for both brokers and prospective residents.
As the "new normal" of daily life continues to establish itself, Brunswick Forest has still seen a healthy increase in touring traffic and sales numbers. From limiting social contact, to ensuring common areas are wiped down, the master planned community of Brunswick Forest is following CDC guidelines as North Carolina begins opening again. Brunswick Forest is making sure that its team, residents, broker partners and visitors are taken care of during this time. The community is taking measures to use physical buffers to maintain social distancing, and limiting physical foot traffic in common areas as well; this includes Brunswick Forest's model homes and Welcome Center. To see all of the precautions we've taken, follow this link. Our broker community has also been tremendous in securing tours, showing interested couples to model homes, and referring new clients to the sales team.
The proof of all this success is in the pudding. We recently set a record-breaking achievement for Brunswick Forest's Showcase of Homes, with 15 new families being welcomed to Brunswick Forest. Eight of which were ushered by direct result of the realtor community being so supportive in all of Brunswick Forest's endeavors. The Brunswick Forest real estate team profess that their realtor colleagues have made such an absolute difference, and that they look forward to continuing welcoming more new families together with you in the months ahead. Brunswick Forest Broker Relations Specialist, Reid Myers, and the Brunswick Forest Sales Team are also ready to assist broker needs at every turn and provide adequate resources to help them and their clients.
Be it through local broker and agency partnerships or the passionate testimonials of current residents, Brunswick Forest has continued to keep pace in giving many new homeowners a chance to live in paradise. Through the dedicated professionalism of their teams and partners, Brunswick Forest is excited to continue that trend. If our Coastal By Nature lifestyle may be for you, contact the team at: 855.983.9579. Take a virtual home tour, browse Brunswick Forest's gallery, or ask the live chat any questions you might have.