Paddle Paddle Paddle: Kayaking at Brunswick Forest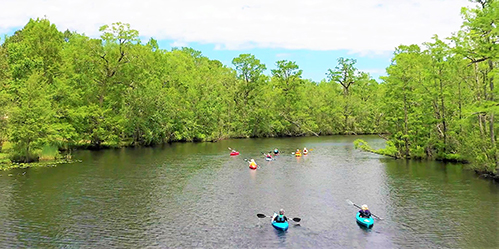 Imagine that you are outside on a warm spring day in Brunswick Forest. You're in your vessel gliding along a body of tranquil water. As you move through the pristine water two great blue herons fly overhead, fish are jumping, and turtles are basking in the sun on a sandy bank.
This is the sort of feeling kayaking at Brunswick Forest can bring you, and now is the perfect time of year to experience it! In May, temperatures in the greater Wilmington area begin to soar into the 80s as we slowly march towards the first days of summer. Kayaking is an easy way to take yourself (or a couple of friends) on a local adventure, immerse yourself in a natural environment, and take care of your health. Considered "low-impact" due to the lack of extreme movement, kayaking is the process of paddling through an aquatic environment while seated in a small, narrow watercraft known as a kayak. Kayaks come in a variety of shapes and sizes and can accommodate up to two passengers. The kayaker will typically use a two bladed oar which is thrusted into the water in a windmill fashion. This movement helps to propel the craft forward.
Kayaks can be used in an array of aquatic environments, ranging from exploring gentle waterways to mastering white-water rapids. This type of recreation is not a modern invention. Like Canoes, kayaks go back at least 4,000 years! It is said that the Inuit tribes of Arctic North America were some of the first people to use this style of watercraft. Munich, Germany houses a museum displaying some of the oldest kayaks in history, dating back to 1577. Today they are used much in the same way as they were back then as a form of recreation and an inexpensive mode of transportation along waterways.
There are many benefits to kayaking that make it appealing. Kayaking is a great way to improve your cardiovascular system without creating high impact stress on your joints. This activity can also help increase flexibility and lung capacity. Your arms, shoulders, back, and core muscles are all utilized when kayaking. It is highly recommended that kayakers have a good understanding of best safety practices, as well as knowledge of the area and environment one is kayaking in.  Always tell someone where you are going or participate with a group. Do not attempt to kayak in an environment that you feel is above your level of skill or unsafe.
Fortunately for you, Wilmington, North Carolina offers several popular areas to kayak, such as Fort Fisher, Zeke Island Nature Preserve, Wrightsville Beach, Bald Head Island, Oak Island, and many other accessible locations. Three of the most inviting kayaking areas are very close to home for Brunswick Forest residents and guests. At the heart of Brunswick Forests master-planned community is Hammock Lake. It provides a tranquil area to paddle and enjoy the beautiful weather. Downtown Wilmington also sees frequent kayakers along the Cape Fear Riverfront. This is a great way to see the Battleship North Carolina as well as other historic areas while having a safe time on the water. Most convenient of all is the River Launch Area located in Brunswick Forest. This launch is user friendly, safe, and opens right into the natural area of Town Creek. It is a great way to experience nature without straying too far from home.
If you are thinking about an easy way to access nature this spring, kayaking is just one of the great activities available at Brunswick Forest!