Nearby Coastal Towns – Wrightsville Beach
April 25, 2018
Beth Burgee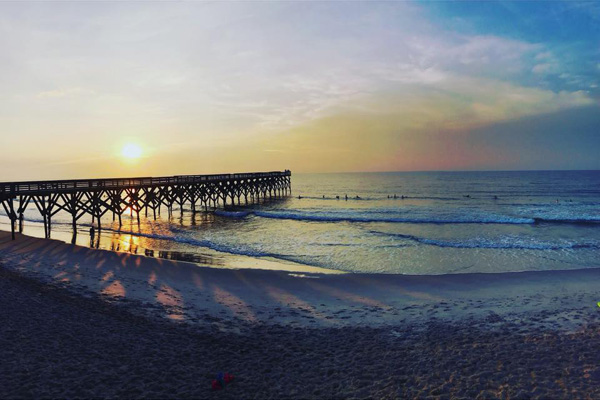 Summer is right around the corner and Brunswick Forest's prime location to several nearby coastal towns gives you plenty of options to choose from when deciding where you'll be enjoying a day by the ocean. With so many beaches to choose from, how do you know which one is the best fit for you and your family? Our newest blog series will take you to a few of our favorite beach-side towns and uncover why southeastern North Carolina's Cape Fear beaches are some of the finest on the East Coast.
Kicking off our blog series, we're headed to Wrightsville Beach, North Carolina. A short 30 minute drive from Brunswick Forest, this beach is a local favorite. One of the most convenient beaches to Brunswick Forest, Wrightsville Beach is known for its crystal blue waters, clean and spacious beaches and picturesque setting.
This small beach town has continuously been voted one of North Carolina's best beaches and was most recently recognized in Southern Living Magazine as one of the top 10 coastal towns in their annual "The South's Best" list. Also dubbed one of the top surfing towns in the world by National Geographic, there is no shortage of activities to keep you busy while you're on this 4-mile long island.
Wrapping up the Wrightsville Beach nourishment project last month, locals and visitors alike are now enjoying beautiful, expansive beaches from the dredging of nearly 700,000 cubic yards of sand from the ocean floor back onto the beaches. This project helps to combat erosion and is the eighth time Wrightsville Beach has undergone dredging in the last 32 years.
THINGS TO DO
Active beach-goer's are in no short supply of things to do while they're on island. Race a sailboat along the Intracoastal Waterway, venture out for a surf lesson or SUP excursion, jog "The Loop" fitness trail, fish on Johnnie Mercer's Pier, or rent a bike from one of the several rental shops available.
Looking to spend some time exploring indoors? The Wrightsville Beach Museum of History is open year-round and offers free admission to see their exhibits and walking tours Tuesday-Sunday. The museum preserves and shares the 100+ years of history that has helped to shape Wrightsville Beach into the island it is today.
SHOPS AND DINING
After a long day in the warm, North Carolina sun, relax at one of several restaurants and bars on island. Wrightsville Beach is known for their beach boutiques and surf shops, beach taverns and oceanfront grills.
Filled with small, local coffee shops, go-to lunch spots and waterfront dining, you're in no short supply of restaurants while you're on island. Home to many local hot spots, most of the bars and restaurants on island are lively, charming and offer menu's with fresh and local ingredients. Stop in and grab lunch at Tower 7, a true local favorite; or enjoy a fine-dining experience at The Oceanic, the only restaurant in Wrightsville Beach situated on the Atlantic Ocean.
Regardless of how you spend your day in Wrightsville Beach, you're sure to leave with a lasting appreciation for this small coastal community.
866-831-8289