The River Launch at Brunswick Forest
September 25, 2020
ISWebmaster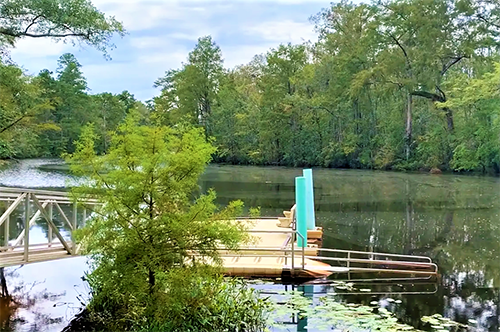 Sparkling water, the sounds of birds and other waterfowl echoing through the air, and oak trees towering overhead, these are all a part of the experience of cruising along Town Creek. All you need for a waterborne adventure is your kayak or canoe, and pure natural bliss surrounding everything for miles around. With a river launch ramp located near the neighborhoods in Brunswick Forest, getting yourself off to your next coastal adventure is very convenient.
Originating just north of the Green Swamp Nature Preserve, Town Creek flows for several hundred miles downstream towards the town of Winnabow, North Carolina. It flows just past the community of Brunswick Forest and eventually empties into the historic Cape Fear River. Town Creek is home to several species of aquatic, avian, and plant wildlife, making it an important aspect of the natural local environment. Even better, it makes a nice relaxing area to paddle around using your watercraft. Be it a kayak or a canoe, Town Creek offers spectacular views and an unmatched opportunity to explore the boundaries of where you live.
The river launch offers an easy to access way to get into the water. The launch itself is constructed from high-quality wood and metal to provide a safe and sturdy platform for anyone to use. It offers a great starting point for a day on the water, and you can quickly paddle your way to a favored scenic view or even meet some more friends downstream. Canoeing and kayaking are a very popular amenity and activity that residents enjoy at Brunswick Forest. It is relaxing, enjoyable, easy to get into, and healthy physical activity. Residents are very fortunate to be close to many different outlets of water here in the greater Wilmington area.
The river launch is ready to get you paddling into your next chapter in living Coastal by Nature®. Amenities that immerse you into a natural environment are a part of why Brunswick Forest is endearing to so many residents. If you are ready to make Southeastern North Carolina your next home, contact our real estate team at 855.983.9579