Luxury is in The Details: The Myrtle by Legacy Homes
July 27, 2020
ISWebmaster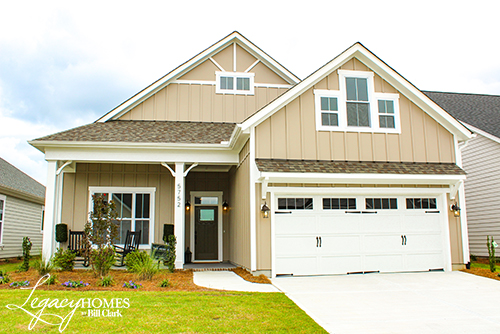 Legacy Homes by Bill Clark centers their entire homebuilding business around making sure they get the details just right. These details are what separate a good home from a great one. The Myrtle, Brunswick Forest's model feature for July, is all about showing its luxury in those details.
Though it can be considered petite in size, The Myrtle is one model that you do not want to sleep on as an aspiring homeowner looking to relocate. Part of Legacy Homes' Laurel Collection, The Myrtle is a home that is fit for royalty and features all the plush accommodations that you would expect from a five-star builder like Legacy Homes by Bill Clark. Here are a few quick specifications on what The Myrtle has to offer:
A total of 2,004 square-feet including the bonus room for extra space
Three amazing bedrooms
Three well-equipped bathrooms
Brunswick Forest allows you to buy this model today as a move-in ready home, or build it on your homesite to suit your needs
If you want a cozy home with lots of character, The Myrtle will accommodate your needs. The main living area opens into the kitchen and allows for easy access to other parts of the house. This layout seamlessly blends the different corridors together making the home both organized and aesthetically pleasing. Large walk-in closets with enough space to lose yourself in are standard in the master bedroom. There is also plenty of space in the secondary bedrooms and even an office space if you need to work at home. If you are looking to enjoy mild summer evenings, you will enjoy the covered porch this home offers! It is perfect for year-round outdoor enjoyment, which is great for the mild temperatures of the Wilmington area.
Have a look inside The Myrtle because you are guaranteed to fall in love with its endless charm and well-equipped layout that is flexible to your chosen lifestyle. It provides all the convenience of downsizing without losing any functionality! Currently available to tour in The Lakes neighborhood at Brunswick Forest, this home blends in well with the area's green space and water features.
Legacy Homes by Bill Clark is one of the top building partners in the real estate industry, and when you tour a home built by them, you know to expect quality in every corner. That standard is seen in homes like The Myrtle, which is why it is Brunswick Forest's model feature for July! Be sure to take a trip down to Brunswick Forest for their Coastal Showcase Weekend events in August and September! Or ask for a tour by contacting their real estate team at: 855.983.9579