Brunswick Forest is the King Community for Outdoor Fun: Springboard into Outdoor Activities!
May 20, 2020
ISWebmaster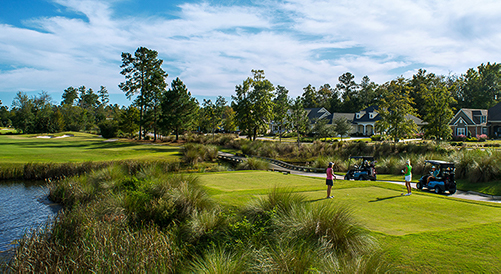 Spring is such a wonderful time of year, because the mild temperatures allow Wilmington area residents to enjoy nature. With the summer months just around the corner, there is no better time to get out and engage in an active lifestyle!  From biking trails to kayaking opportunities, saying there is a lot of options at Brunswick Forest is quite the understatement. Strap yourself in, here is just a few of the outdoor activities that you can engage in.
You do not need a massive vessel with large outboard engines to enjoy the local waterways and creeks in Leland and beyond. Sometimes a personal craft and a few paddles is all it takes to have a relaxing day out on the water. For residents in Brunswick Forest, there is always an opportunity for outdoor fun just around the corner. Brunswick Forest has accessible areas to enjoy both canoeing and kayaking, including Hammock Lake and the local tributaries of Town Creek. Town Creek even has its own river launch for easy access. There are also several areas close by to Brunswick Forest where you can enjoy paddling out on the water. These include Zeke's Island Reserve, Greenfield Lake, and River Road Park; all these locations are just a minutes' drive from the community.
Cornhole:
If you have ever played the game of horseshoes, then you have the basics of how to play cornhole. For those of you who have never played either of these enjoyable games, the concept is simple to learn. Two boards will be set up on opposite sides of a playing field. You do not need to search for a court when playing cornhole, any open yard or area will do just fine! Each board has a little hole in the center, this serves as a scoring area. Each opposing team will usually have two people playing on each side of the field and receive bean bags to play with. The goal is to get your bean bags into the scoring hole, or on the board. Brunswick Forest has plenty of wide-open spaces that you can play corn hole at, such as Annsdale Park and Meadow Park. Hugh MacRae Park, Carolina Beach State Park, Founders Park and Westgate Nature Park are just some of the surrounding locations that are perfect for cornhole.
Championship Golf:
If you are looking to get some fresh air and play 18 holes of golf on an award-winning championship course, then look no further than Cape Fear National at Brunswick Forest. Designed by master golf architect Tim Cate, this course is designed not only to be beautiful, but challenging too. You will drive your ball past sweeping bunkers, tricky roughs, and long fairways. Being that this course is right inside Brunswick Forest itself, it is the ultimate convenience for residents who love the game.
Biking and Walking:
Did you know that residents of master planned communities around the country consider walking and biking trails to be the number one must-have amenity? Sometimes you are not looking to do anything fancy, and you just want to look for a place you can stretch your legs. Brunswick Forest has got that need covered too. Regardless of if you need to walk the dog, put the pedal to the metal on your bike, or just stick to your fitness routine, you will have a place to enjoy yourself. Brunswick Forest has nearly 100 miles of walking and biking trails that wind through each neighborhood. Residents can connect to Brunswick Forest's other amenities quite easily through these trails as well.
Regardless of how you decide to get out there an enjoy the sunshine, Brunswick Forest places you in the center of all the action! So, if you have gotten tired of snowstorms in the North, and want to enjoy activities in a mild climate let this be your inspiration for making a move!