Accomplish a Lot in Only a Little: 24 Hours in Wilmington, NC
November 8, 2021
ISWebmaster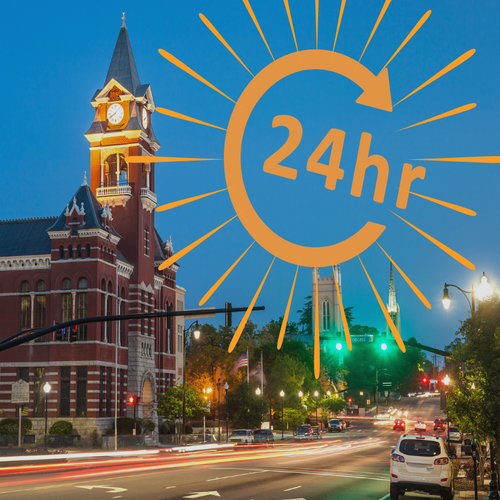 Wilmington is unique in that it has a multitude of major geographical locales: Downtown Wilmington, Ogden, the college campus of UNCW, midtown, South Wilmington, Fort Fisher, and so on. That's a whole lot of locations where you're able to enjoy yourself. It also allows for great opportunities to host guests that travel into town, or bond with friends and neighbors that you've made here at Brunswick Forest. You can mix and match the areas too, and cover most of New Hanover County in a day. Your day can begin in Ogden at Cast Iron Kitchen for breakfast, you can decide to do a little shopping over by the College, and then end by watching the sunset out at Fort Fisher. Regardless of how you choose to spend it, 24 hours in the Port City is time well spent. Here's what a typical enjoyable day can look like.
Seven Beaches at Your Disposal in the Greater Wilmington Area
Not a lot of cities have a whopping seven beaches as close as Wilmington You have Wrightsville, Carolina, Kure, Caswell, Oak Island, Ocean Isle, and Holden Beaches. What's great is even though they're all beaches, each beach has features that are unique to its location. Carolina Beach is known for its boardwalk, Oak Island has a functional lighthouse, Wrightsville Beach has dozens of shops and restaurants, and Caswell is known for being a quiet retreat. There are so many activities you can do here year-round, such as shelling, metal detecting, surfing, fishing, kite flying, cornhole, horseshoes, building sandcastles, and a whole lot more!
Restaurants
Did you know that Wilmington's riverfront district has over 40 locally owned and operated restaurants? A favorite local pastime in town is eating out, especially if you can snag a table with a view of the water. Wilmington has always been a center of culinary culture, harboring a specialty for the freshest seafood on the Southeastern coast. But over many years, Wilmington's dining scene has become much more than that. The local menu has grown to include eclectic items like wild game, Asian cuisine, and new takes on old Southern favorites. Other local hotspots also involve the Sailfish Restaurant in Scotts Hill, Poe's Tavern in Wrightsville Beach, Crust in downtown Wilmington, and Ocean Grill & Tiki Bar in Carolina Beach.
Beer, Wine, and Coffee
If you're a craft beer, wine, or spirits connoisseur, then Wilmington is a great city for you. Wilmington has over 16 breweries to choose from, and the number is steadily increasing in the surrounding area each year. Locations like Front Street Brewery have long been the area's craft beer king but are now joined by others like Waterline, Edward Teach, and Flytrap Brewing. End of Days Distillery is Wilmington's foray into crafting bourbon, vodka, and rum. Good times aren't just relegated to alcoholic beverages, either. For those of you who enjoy a delicious cup of tea or coffee, then the greater Wilmington area has you covered there as well. Port City Java is one of our local specialty chains that includes plenty of regular and seasonal drinks. Downtown Wilmington is home to shops that specialize in high-quality artisanal coffee, such as Java Dog and Bespoke Dry Goods. Carolina Beach is known for Crush and Grind down at the boardwalk. All of these boutique coffee shops offer comfortable places to sit, relax, and enjoy a friendly conversation.
 Recreational Activities
Wilmington has plenty of great beaches, parks, bike trails, hiking trails, and historic locations you can tour. History buffs and those who love a good story will enjoy taking a horse-drawn carriage ride around the old cobblestone and brick streets of the downtown area. There's a lot of historic homes that you can tour such as the Bellamy Mansion and Burgwin – Wright Home and many other buildings that have stories that date back to our nation's founding. And don't forget, after a day of adventuring around town, you can wind down with a live show at the Wilson Center, Dead Crow Comedy, or historic Thalian Hall.
With so many waterways nearby it's easy to see why Wilmington is known as a fisherman's haven and boaters paradise. New Hanover County has one of the longest dedicated bike trails around, stretching from the midtown area to the Intracoastal Waterway for an amazing 15-mile stretch.
Finally, one of the biggest attractions for those moving to our area is the game of golf. There are 13 courses around greater Wilmington, each with its own identity. If you love golf, you'll love Wilmington.
You can find enough in Wilmington that will create plenty of memories. In just a single day, you can hop from a spot on the beach, to eating at a family-owned restaurant for lunch, then tour several historic buildings, and end the day downtown overlooking the Cape Fear River. Regardless of where you decide to visit in Wilmington and New Hanover County, the options are vast and relatively close. That's part of the charm here, and a big reason why people move to communities in the greater Wilmington area like Brunswick Forest. Come and visit us with our Coastal Community Tour and see for yourself how much there is to love here.