Drop a Hook and Haul 'em Up! Fishing in Coastal Carolina
June 17, 2020
ISWebmaster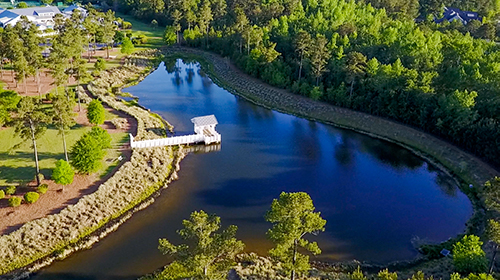 If people concentrated on the important things in life, there would be a shortage of fishing poles" – Doug Larson
Water is essential to life, trade, and the identity of our Cape Fear Region. Having the Atlantic Ocean right in our own backyard is what has drawn most of us to live near Wilmington, North Carolina. Whether you are looking to catch a record-breaking Red Drum, spend a couple hours on the water, or even to just get some fresh air, there is nothing quite like the feeling of fishing locally. Some fish for food and some fish for sport. Here are a few local spots to fish and specimens you can expect to catch in our local waterways.
Johnnie Mercer's Fishing Pier:
You cannot call yourself a Wilmingtonian without visiting Johnnie Mercer's Fishing Pier at least once during the summer season. Overlooking the blue-green waves of Wrightsville Beach, the pier and its history is just as famous to locals as it is to tourists. This pier has been here since the 1930s, and it is a fantastic place for any angler to try their luck. Sturdily built from solid concrete, this pier offers a fantastic view of the water along with ideal areas to cast your line. While some may prefer to cast their lines from shore, Jonnie Mercer's gives you easy access to a day filled with fun. There is also an arcade, gift shop and now a newly renovated showering area just by the entrance to the pier.
Holden Beach Fishing Pier:
The pier at Holden Beach is a whopping 700 feet long, with rustic wooden planks that makes this structure a popular destination to fish from. Benches and tables line the pier, giving fishermen an ideal place to cut bait or just take a breather. At the same time, your breath will be taken away by the fantastic views the pier gives you of the Holden Beach community. For those who enjoy night fishing, you will also have plenty of lights to guide your lines.
Kure Beach Fishing Pier:
One of the oldest fishing piers in North Carolina lies at the historic town of Kure Beach, just South of Carolina Beach. This magnificent sight is a small-town fisherman's paradise, with plenty of potential to reel in a keeper. With historic Fort Fisher, North Carolina Aquarium, and the town of Kure Beach nearby, there is a lot to do around the pier as well. This pier is family-friendly, so kids of all ages are welcome to join in the fun of fishing at the beach. There is also an arcade, souvenir shop and an ice cream parlor for anyone looking for a post-fishing treat. Best of all, you do not need a fishing license to enjoy your day here. So, bring the cooler and your favorite tackle because there is plenty of fishing opportunity to be had.
Wondering what kind of fish the local anglers are reeling in? Here is a short list of the most frequent species caught along our area:
Red Drum (AKA: Puppy Drum, Redfish)
Southern Flounder (AKA: Flattie)
Bluefish
Sheepshead
Black Sea Bass
Spanish Mackerel
King Mackerel
Black Drum
Speckled Seatrout
Cobia
Shark
Fishing is a boatload of fun during the summer, no matter how you choose to do so. It takes a little patience, but no matter why you fish, most would agree that even a bad day of fishing is better than a day not fishing at all. After all, that is why they call it "fishing" and not "catching!" Brunswick Forest itself has a stocked lake over by the Community Commons, so you can practice your angling without even having to leave home if you do not want to. So next time you are thinking about summer fun, consider getting the tackle box out and trying these locations!