Spirits with Soul: End of Days Distillery
November 27, 2020
ISWebmaster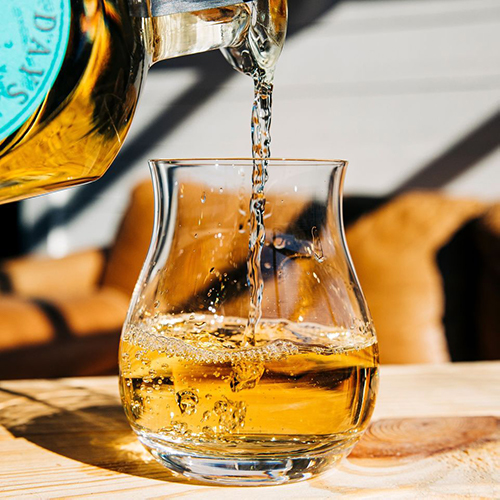 Everyone enjoys a little something strong from time to time. It does not matter if you are into wine, spirits, or beer, an alcoholic beverage can help to set the mood. Being a part of a renaissance in craft brewing, the greater Wilmington area is no stranger to local craftspeople making art in a bottle. With all the excellent microbreweries downtown, it might be easy to overlook some of the other great options available in our area. End of Days Distillery, one of the newer additions, shows that distilling vodka and other spirits can be just as impactful for our local economy.
There are 24 hours in a day with 60 minutes in each hour. It sounds like a lot, but as we all know, the week can go by pretty quickly. So, it all boils down to two of life's simple questions:
How well are you spending each moment? Are you enjoying each minute as best as you can?
These are questions that have lead a local family to start up their distillery here in the historic greater Wilmington area. Those questions are the ones that drive the minds behind End of Days Distillery. The facility does not look like much at first glance, being housed inside of a 1940's era furniture warehouse, you might miss it the first time around! However, that is part of the character of the craft scene here in the greater Wilmington area, where ambitious young businesses are turning historically significant buildings and giving them a new life. Owner, Shane Faulkner, has done a great job preserving Wilmington's history while making a very useful commodity for local brew enthusiasts.
When you walk inside the End of Days Distillery, you will be greeted by a wonderland of copper pots, tubes, tanks, and a very nice lounging area. Unlike a lot of spirits you might find in an ABC (That's our area liquor store), the products at End of Days Distillery are carefully crafted in small batches with lots of pride. For them, every sip of their product should represent enjoying the "here and now" moments of life. Overall, End of Days Distillery has become one of the unique frontrunners in Wilmington's identity, and they have already made a massive impact despite only having been open since Summer 2019. Regardless if you are looking to spend some time outside or looking to relax in their lounge, here is a quick rundown of some of their most beloved products:
Distilled right here in The Port City of Wilmington, this spirit can easily be recognized as one of their flagship products. Clean, crisp, and smooth, it is described as "very approachable" and was voted as North Carolina's top vodka of the year!
This is another flagship product that will make you feel like sipping a glass while watching the sunset over the Cape Fear River. Awarded the double gold sip award in 2020, this refined rum is clear and made with 100% molasses and raw cane sugar. It has a great mouthfeel and tasting notes that will keep you wanting to enjoy another glass.
The ultimate mixer for your tonic beverages, this gin is sure to get you in the mood to enjoy life's little pleasures a bit more. It is a very smooth product that acts as the perfect catalyst for your drinks.
A great thing about moving to Brunswick Forest is being only minutes away from great local spots such as End of Days Distillery. The next time you are out and about downtown, make sure you stop by their castle street location and pick up a bottle for yourself! It is sure to make a great holiday gift as well.