A Legacy of Fine Homes: Legacy Homes In Park West!
August 16, 2019
ISWebmaster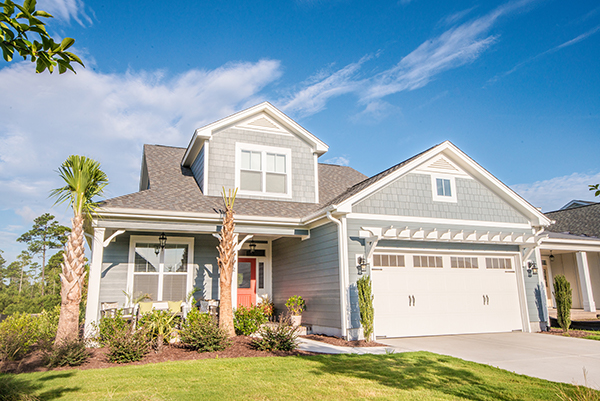 Legacy Homes by Bill Clark has been building award winning homes in the Carolinas since the late 70s, and their dedication to quality has never wavered once. Legacy Homes prides themselves on providing aspiring homeowners with an impressive number of features, while keeping their individual and unique lifestyles in mind. When you purchase a home from Legacy Homes, you can be sure that it's a home that will accommodate your needs.
Park West is one of Brunswick Forest's most well-appointed neighborhoods and focuses on providing amenity-rich living with upscale features. This neighborhood is nestled in a centralized location between the main Fitness Center and the illustrious Cape Fear National. Robin Campbell, sales manager at Legacy Homes, describes Park West as being, "a unique opportunity within Brunswick Forest to get all the benefits of having a new home, without sacrificing the other amenities that make Brunswick Forest a desirable community." Legacy Homes is looking to introduce their special Laurel Collection of floorplans to Park West. "What makes these homes so great, is that they are centered around first floor living spaces but with multiple opportunities to personalize the home to each owner(s)' lifestyle."
Aspiring homeowners can also look forward to The Cypress floorplan by Legacy Homes in Park West! "The Cypress plan will be introduced as our 'ideal home'. It's one of our most versatile plans that is perfect for someone looking to downsize and move into a single level living space. For those looking for a little more room, our Cypress plan can accommodate a full second floor option," Robin elaborates. The Myrtle floorplan has similar options, while starting at only $324,000.
When asked about the features that would be included in their Park West homes, Robin mentioned, "Many homebuyers seeking out the Legacy Homes being built at Park West, will be pleased to find that all the fits and finishes, that could be considered 'upgrades' in some homes, are included in the Laurel Collection. These features include granite countertops in the kitchen, tile floors in all the bathrooms, extensive trim throughout the home, screened porches and stainless-steel appliances." With any new home build, comes with the opportunity to meet with the Legacy Homes design team, at The Villages, and create the home of your dreams.
"Our mission is to always provide homeowners with the same quality of construction, regardless of price point. Legacy Homes takes great pride in the fit and finish for each home, and because of this, we've been able to help a lot of new homebuyers who are looking to move to the area. The new homes by Legacy in Park West offer significant value without compromising quality. It makes neighborhoods like Park West more inclusive," Robin tells us.
Legacy Homes has done wonders to introduce these new homes to Brunswick Forest, and our real estate team is excited to let everyone know about these additions. Robin concluded by saying, "Legacy Homes has so many options regarding details, trim, space and energy saving features, that I can honestly say that these new models will be excellent additions to Brunswick Forest."