Extra Time : The Villages Makes Life Easy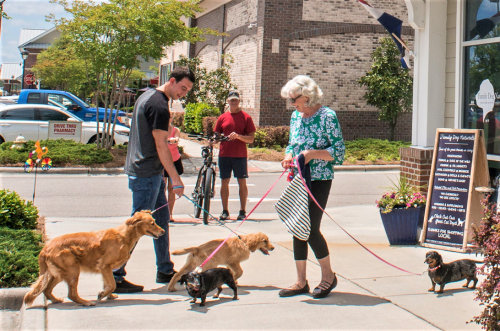 The Meaning of Convenience
"Convenience" is the ability to proceed with something with little effort or difficulty. When we say that "The Villages at Brunswick Forest is convenient," we mean that it allows you to spend less time worrying about the essentials like groceries, and more moments enjoying your life. The Villages Town Center makes life for Brunswick Forest residents easy.
More Time and Peace of Mind
Every month or so, it is normal to need to book a medical appointment, go shopping, visit a pharmacy, or decide where you want to take visiting family for dinner at some point. The Villages Town Center has already done the heavy lifting for residents of Brunswick Forest to save them valuable time to enjoy life on the coast.
Spend Time at the Beach
With seven incredible beaches nearby, The Villages Town Center afford you more time to soak up the sun and not detract from your fun. Whether you're at Oak Island, Bald Head Island, Wrightsville Beach, Carolina Beach, Holden Beach, or Caswell Beach, you'll enjoy having more time to love living in coastal Carolina. The Villages Town Center also makes getting ready for the ideal beach day easy. This is all thanks to a nearby CVS Pharmacy and Lowes Foods that allows you to pack everything from sunblock to ice.
More Time for Outdoor Activities
Being able to run your errands in record time and still be close to home means you'll have more time to enjoy an active lifestyle. Instead of worrying about driving halfway across Leland for an appointment, residents can be secure in the knowledge that they have everything they need close by. That means there's more time to jog, bike, or walk your dog down our walking trails. You can choose to visit Annsdale Park for a community event, swim in the saltwater pool at our Fitness and Wellness Center, play a game of cornhole with neighbors in front of the Community Commons, or Kayak in Town Creek. Residents are also able to easily bike, walk, or jog to The Villages. Meaning that you're not only saving time but combining your daily activities in an efficient way.
Spend More Time with Neighbors, Friends, And Family
Do you have family flying into town? Have a dinner date with your neighbors? The Villages Town Center saves you time in preparing for company or even entertaining them. Again, the nearby Lowes Foods is perfect for getting supplies without having to travel excessive distances. You don't even have to cook thanks to The Villages Town Center either, as The Joyce, Shuckin' Shack Leland, and Farmhouse Kitchen are all close by to enjoy a delicious meal. And all that saved time means there are more memories to make with the people you care about in life.
The Villages Has Everything You Need
It doesn't matter if you're looking for a new pair of shoes at The Shoe Center or looking to book your next orthopedic appointment at EmergeOrtho. Everyone benefits from extra time when you have convenience like The Villages Town Center. It's all a part of how Brunswick Forest works hard to redefine the ideal coastal lifestyle.