Residents Love the Villages Town Center
February 22, 2022
ISWebmaster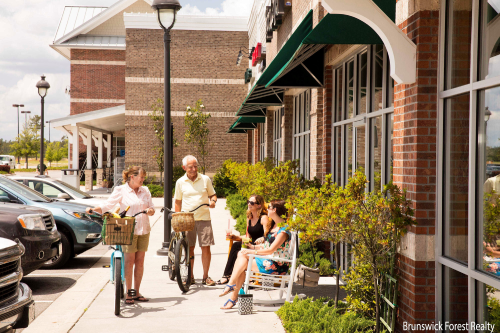 Why Love The Villages?
We always say that there's a lot to love about living here at Brunswick Forest, but what do we mean by that? There's no better example to look at than the Villages Town Center! Imagine being able to live in a permanent vacation paradise with just about everything you need for a comfortable lifestyle right down the street from you. This is an extensive part of why so many residents here love the Villages Town Center.
Everything You Need Close By
Convenience is something that is greatly appreciated in any community. If you're going to endorse a stress-free lifestyle, then one of the best things you can do for everyone is to place all their needs close by and reduce the amount of traveling people need to do. Part of having a relaxed and carefree lifestyle is being secure in the knowledge that you don't have to drive or go extensive distances to take care of important parts of your life.
The Villages Town Center provides that peace of mind for all our residents. With Lowes Foods, Shoe Center, BB&T, New Hanover Regional Medical Center, CVS Pharmacy and so many restaurant options nearby, it's rare that our residents ever have to travel far. That means there's more time for our residents to concentrate on what matters most, living a peaceful life in a coastal Paradise.

Health Made Easy
It goes without saying that your physical health is an important aspect of your life. Brunswick Forest provides a lot of amenities such as fitness centers to help you maintain that health, but The Villages Town Center also has two amazing healthcare facilities at your disposal: EmergeOrtho and New Hanover Regional Medical Center. Both buildings are fully equipped with a lot of lab testing, diagnostics, and a fully trained professional staff. EmergeOrtho is one of the top orthopedic practitioners in the state, and the center here at The Villages is state-of-the-art. If you need an appointment with your practitioner, then keeping with your schedule will be as easy as walking out your door. In addition, CVS Pharmacy allows 24-hour access to the pharmaceutical supply you need all year-round.
Your Pets are Important Too
Just as important as your health and well-being, your pets are also an important part of your family. That's why The Villages Town Center is wholly dedicated to having your pet's medical care and supplies right in your backyard. Family Dog Naturals and Brunswick Forest Veterinarian makes sure the furry members of your family are cared for just as much as you are. The Villages Town Center provides you with easy access to pet checkups, chew toys, and everything in between.
Delicious Food Close By
There are so many restaurants at the Villages you always have an easy options for a delicious meal. Farmhouse Kitchen, Shuckin' Shack, The Joyce Irish Pub, and Pizzetta's Pizza all make up a tasty smorgasbord of options no matter how hungry you are. What's better than getting a phenomenal meal without having to even cross the bridge into Wilmington? That's another reason why The Villages Town Center is loved by so many of our residents.
Regardless of what time of year it may be, it's always a good time to fall in love with having whatever you need right at your fingertips.