Build Smarter and Dream Harder: Logan Homes at Brunswick Forest
September 21, 2020
ISWebmaster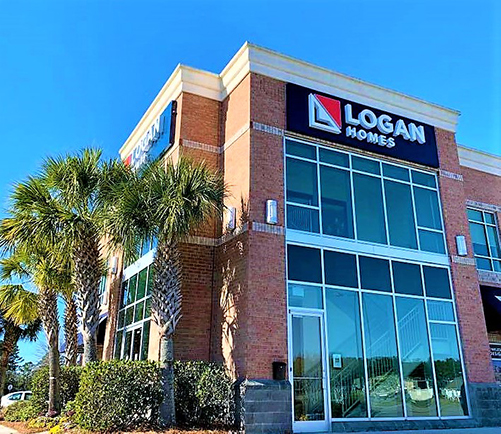 It is not just about how many homes you can build, but the quality involved in the building process. In today's real estate market, master-planned communities offer a multitude of various floor plans. But how many of those homes will cater to the homebuyer's lifestyle? Can they obtain an affordable home that is built with integrity? How well will they able to personalize it to their liking? These are all valid questions that premier building partner Logan Homes wants to answer for all potential clients looking to make Brunswick Forest their home!
Over 30 years is a long time to be building homes in the Eastern Carolinas! But ever since their inception in 1986, quality is exactly what the team at Logan Homes has been giving many happy home buyers. Logan Homes is well-regarded nationwide for its combination of move-in-ready homes with peerless innovation. With over 80 floor plans across a dozen of their home collections, Logan provides aspiring homeowners a variety of modern floor plans to choose from. Brunswick Forest has several neighborhoods that Logan Homes has built-in, solidifying their place as one of the most pronounced building partners in the Leland area. Some of the neighborhoods where you can see their handy work includes, The Lakes, Park West, Egret Cove, Shelmore, Cape Fear National, and Banyan Bay (which is a Logan exclusive neighborhood.) Banyan Bay has been especially popular, and has one home model left!
Logan Homes emphasizes two major qualities that set them apart from just any old builder. Integrity and transparency are what their team of professionals value most, and their clients seem to agree that this makes for an enjoyable experience. Logan Homes is a unique builder that believes in creating spaces where value, location, and lifestyle come together as one.
If you are looking to tour Brunswick Forest, but you are still thinking about what you want in your dream residence, Logan Homes has a recently updated design studio just minutes away. The design studio is filled to the brim of every home feature you can think of, including exterior trims, floor plan options, interior styling, kitchen area, living areas, bedrooms, and bathrooms. If you have a space that you want to make your own, Logan Homes has got a workable plan for you. Pattern tiles, mudrooms, covered porches, farmhouse styles and so much more are all apart of some of the design trends that the Logan team has touched within 2020. If there is something you have been looking for but cannot put your thumb on it, you can count on their team to help guide you in the right direction.
With so many models and neighborhoods displaying their vast array of floor plans, Logan Homes continues to help Brunswick Forest expand and welcome even more families to the greater Wilmington area. Some of their more recent model features include The Capeside, The Greenfield, The Banyan, and The Lure. You can view more of the amazing work they have done with Brunswick Forest's Homes to Tour videos on Facebook. Also, do not forget you can also choose to see more on the Showcase of Homes digital flipbook.