Thoughtfully Efficient and Open: The Capeside Model by Logan Homes
August 12, 2020
ISWebmaster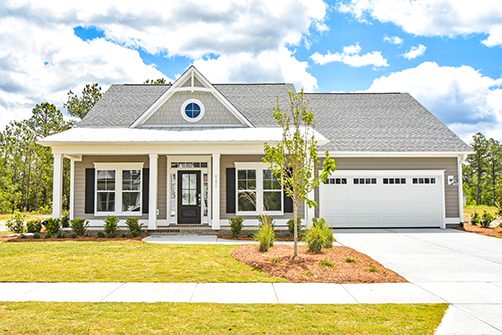 Every month Brunswick Forest works to inform you of some the greatest models available in several neighborhoods. For August, the trend continues onward with Logan Homes, one of the most popular builders at Brunswick Forest who constantly outdoes themselves with the variety of models that they offer to prospective homeowners. Now comes a new development for the Egret Cove neighborhood of Brunswick Forest. The Capeside floor plan at Brunswick Forest is a two-story floor plane with open areas, and a whole lot of efficiency in an attractive package.
Here are some details outlining the basics of this incredible floorplan that could be yours to own:
The Capeside is available as a move-in ready or you can choose to build on the site of your choice
Bonus study room
Three bedrooms
Two bathrooms
Two-car garage
2,357 square-feet
Starting in the low $400s
The open floor plan is perfect for the homeowner who is looking for a lot of accommodations and features with the option of having extra storage space on a second floor. It is super convenient but still comes loaded with all the numerous features and accents you would appreciate in a high-quality home. These features include a spacious walk-in closet that can store just about everything but the kitchen sink and is sure to keep your wardrobe in order. Speaking of kitchens, the kitchen in The Capeside comes with high-tech stainless-steel appliances including sink, oven, dishwasher, and microwave. A lush tile covered backdrop overlooks a solid countertop and kitchen island.
Large windows and doorways allow for plenty of natural light to seep into every corer of the house, while a fireplace holds your attention in the middle of the living room when you need something rustic to lighten the mood. The main bath areas are large and reminiscent of what you would see in a high-class, spa-styled bathroom. Tiles are very prevalent here as is a large walk-in shower and dual sinks making for a more than adequate, yet attractive space. Rich wood flooring accents every inch of the main floor space in The Capeside, making this home feel leaps and bounds above its price point. You can even have the option of having an extra study and storage space, making the most of every inch of the house. And if you are looking to enjoy warm Southern days without worrying about airborne pests, The Capeside also has a screened in porch perfect for seating extra guests. The real advantage with this floor plan is that you get an excellent base to build upon, so it is easier than ever to personalize this home as you see fit.
Charming and practical, two great qualities combined in perfect harmony is what you get when you choose to purchase The Capeside by Logan Homes. Brunswick Forest and their team of excellent real estate agents pride themselves on offering lots of variety for people to become Coastal By Nature®, and the Egret Cove neighborhood is a physical representation of this. For more details on this month's model feature, contact the team with questions at: 855.983.9579. View more fabulous homes with Brunswick Forests Homes To Tour digital booklet or view virtual tour videos on their Facebook page.