Brunswick Forest's Developer Update
November 30, 2020
ISWebmaster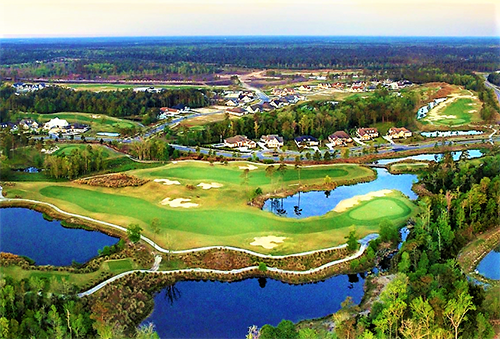 Despite an ever-changing world due to the COVID-19 pandemic, real estate sales in Southeastern North Carolina continue at a strong pace. Mortgage rates remaining below 3% is a factor that continues to fuel this growth. Brunswick Forest looks forward to welcoming all its new residents in 2021. There is a whole lot to look forward to.
"Reflections" at Brunswick Forest is our latest amenity, and we are excited for construction to continue. The ground has already been broken on this world-class facility. This amenity will be the ultimate in luxury and catering to a relaxing lifestyle. When completed your clients can expect to enjoy an outdoor pool, outside decking, a cardio room, and a special area just for exercise classes. The pool will be saltwater, which is ideal for joints and skin. The aquatic area will also have a beach-style entry, and a large wet deck and seating area for lounging in the sun. Overall, your clients can expect Reflections at Brunswick Forest to have a lush and tropical setting. The plan is to have all amenities available in time for the summer season.
Our building partners are fantastic, and we value them highly for the quality homes and how focused they are on each client during the process. Trusst Builders has been busy working on 14 new townhomes in Phase 2 of Tennyson Village , which will be located right across from the original Tennyson Village. The fact that this new neighborhood is low-maintenance and located near several amenities is very advantageous for residents. Tennyson Village II will also be next to the new recreation/entertainment facility, "Reflections", providing additional convenience. It is a great boon to have your home right next to a full-size pool and indoor cardio facility, especially during summer. This new neighborhood is bound to be loved by all who see it, and we are already looking forward to all the new faces who will find their dream home there.
Here are a few more commercial updates that you and your clients should be aware of.
The development of a curling club facility located right next to the House of Pickleball.
Liberty Home Healthcare is still on track to develop an independent and assisted living facility complete with nursing care as well as individual apartments.
Mini storage is also expanding to an extra parcel of land located behind the current facility.
Brunswick Forest is currently negotiating a contract with a craft brewery and restaurant to be located near the medical offices area at The Villages Town Center.
There is interest in another two-story medical building directly in front of the new facility for EmergeOrtho.
Pizzetta's has purchased an additional lot for expansion that will include a dedicated bar area.
A 24-hour convenience store at the corner of Lanvale Road and Highway 17 is a possibility. A new Wendy's is also scheduled to break ground nearby!
Brunswick Forest has more features, amenities, and reasons to visit than any other planned community on the coast! Our sales team is always happy to meet new faces and invite fresh families here. For further details, you can always contact us at 833-497-1001