Tennyson Village II at Brunswick Forest
October 23, 2020
ISWebmaster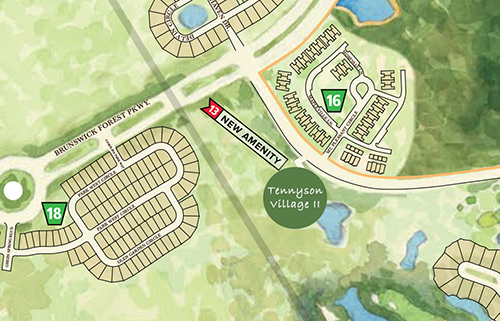 The only thing you should be looking forward to is enjoying the best life has to offer. For years, this master-planned community has been well-renowned as a place where you can truly live your best life, with great amenities, plenty of neighborhoods, and quality floor plans. Now comes a brand-new development in the Brunswick Forest story, Tennyson Village II! These are townhomes that exemplify modern living standards and a no-stress lifestyle with low- maintenance.
The original Tennyson Village has long been considered a wonderful part of the Brunswick Forest community, offering style and accessibility. Now it looks to continue that tradition in a bold new way. Tennyson II continues to focus mainly on a theme of low-maintenance living with access to the latest in Brunswick Forest's amenities. Located at the center area of Brunswick Forest, Tennyson Village II will be nestled right beside our newest upcoming amenity, Reflections. Reflections takes the Brunswick Forest amenity offering to the next level, with a pool and fitness center that is easily accessible from Tennyson Village II. It is like having your private oasis right next to your home, a commodity that is hard for anyone to turn down!
The floor plans that you will find in Tennyson Village II carry the same amount of quality that you have come to expect at Brunswick Forest. One of our building partners, Trusst Builder Group, will be offering two wonderful models to choose from. One model is known as The Linville, which is a three-bedroom, three-bathroom townhome rated at 2,317 square feet. The other is the Plum Island II which is also a three-bedroom and three-bathroom townhome rated at 2,266 square feet. The floor plans that are being offered in this neighborhood are going to be modern and open examples complete with dining rooms, spacious, first-floor master suites, and screened-in patios. There will be 14 townhomes to complete this neighborhood, so do not miss your chance to call Tennyson Village II home. Land/home packages will be starting in the $300s, making living at Tennyson Village II one golden opportunity that you have got to act fast on!
The boundless charm of Brunswick Forest is wonderfully expressed through this new neighborhood. If you are looking to move down and start a better life in coastal paradise, then consider looking at what is new at Tennyson Village II! Come down and see Brunswick Forest with your own eyes using our Coastal Discovery Tour or visit us during our November Homecoming Weekend! For more information contact our real estate team at 855.983.9579.