Wilmington, North Carolina: A Top 100 Place to Live
November 9, 2020
ISWebmaster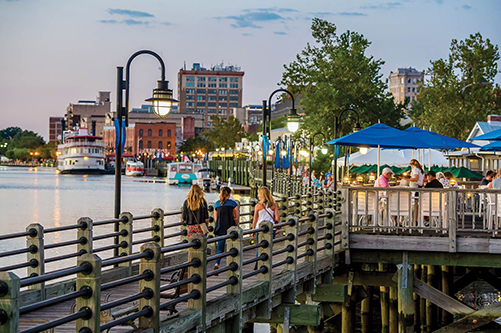 If you are a prospective homebuyer looking for a new place to call your own, you have probably seen "Wilmington, North Carolina," in your online searches. You might have even heard friends saying they are "moving down South to Wilmington." Between having multiple beaches, shopping, dining, and a lot of historical charm, the greater Wilmington area was recently ranked number 43 in the top 100 places to live in America by livability.com!
Thousands of residents who have found their dream homes in the Wilmington area can not be wrong. There must be a reason that Wilmington, North Carolina, is such a popular relocation destination. Take one visit to our area and the reasons become immediately apparent.
For those of you who want the charm of the old South, Wilmington is known for its incredible historic significance. Amongst its skyline are buildings dating back to the early colonial days of the 1700s, as well as Antebellum period residents from before the American Civil War such as the famous Bellamy Mansion and Thalian Hall. These buildings provide an amazing glimpse into the past and add an unforgettable atmosphere as you walk through downtown on your way to get coffee or a bite to eat.
While it is a city rooted deeply in the traditions of the past, Wilmington is not without modern enjoyment. From outdoor concerts from local musical artists to art galleries and a whole host of pubs, there is always something to do around the area. The Riverwalk is a great way to end an evening downtown, with gorgeous views of the Cape Fear River and the Battleship North Carolina. The Riverwalk has been voted as one of everyone's favorite activities.
If you are looking to have yourself a cold one, Wilmington has a roaring craft brewing industry. Within the shells of old warehouses and brick buildings lies a whole host of microbreweries like Waterline Brewing, Flytrap Brewery, Edward Teach Brewery, and of course the well-loved Front Street Brewery. When it comes to the fun by sea, Wilmington has captivated thousands of visitors with its white-sand beaches, all of which are within a 15-mile radius meaning that you only have a short drive to a memorable time. Spend some time with a hot cup of joe over at Port City Java, Bespoke, or Java Dog Coffee, then take your time browsing through local crafts and knick-knacks at the Cotton Exchange. All these qualities have garnered attention from aspiring homeowners from all over the country and have helped put Wilmington on the map.
Wilmington is also known across the nation as being a wellspring for movie filming activity. You may have seen it in shows and movies, such as "Iron Man", "One Tree Hill", and "Dawson's Creek." It is because of this that many have had their breaths taken away by the coastal charm here. But fame is not the only quality that Wilmington has become prized for, it is the livability and more importantly the quality of life that you get.
Between its beaches, clean air, a laid-back setting, and coastal charm, Wilmington has become a true gem. Once you have taken that first stroll down these cobblestone and brick-lined streets, you will realize that Wilmington is the place for you to live out your golden years. There is a mild year-round climate, with mostly sunny days, allowing you to maximize your time both outdoors and indoors. The greater Wilmington area has a booming real estate industry, especially in nearby Brunswick County. That is where master-planned communities like Brunswick Forest come in, where you can settle down close to all the important assets that make Wilmington so desirable. When your town ranks 43 in the top 100 livable towns in the entire country, desirability goes without saying.