Downtown Wilmington's Historic Battleship
March 20, 2019
ISWebmaster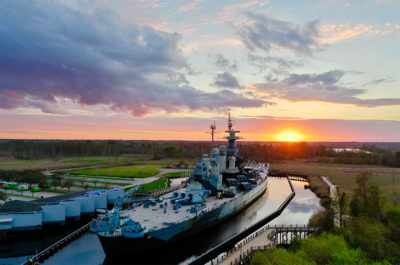 At Brunswick Forest we are proud of our local history. Southeastern North Carolina is known for its rich history, and Downtown Wilmington is no exception. The Wilmington area has plenty of unique historic landmarks, but none are quite as breathtaking as the one docked across the river.
First opened in 1961, The Battleship North Carolina is one of the most recognizable national landmarks in North Carolina. Moored in dignified solitude, across from the skyline of Downtown Wilmington, the Battleship was once considered to be the most powerful ship ever built in its class. This incredible ship was commissioned in 1941. An awe-inspiring machine with a highly decorated combat record, the ship and its crew fought valiantly in the Pacific Theatre of World War II.
For an inside peek at what life was like for the sailors that used her as their home, we more than encourage you to climb aboard! Guests are free to explore all nine massive decks of this great American Naval fighting machine. Explore the massive engine room that once powered the ship through the Pacific Ocean. Check out the crew bunk areas or relax in the mess decks. See what the view was like for commanding officers up on the bridge. You can even sit in the massive deck guns, bristling across the deck of this incredible vessel!
The upper decks themselves provide an excellent view of the Cape Fear Riverfront and Wilmington itself. There are also plenty of events throughout the year that will captivate any audience. Enjoy demonstrations of how the ship operated and get a personal account of what the crew endured.
Wander through what is essentially a floating time capsule and see what life was like for those who served aboard her. We guarantee you'll walk away blown away by the sheer magnitude of history. It's no wonder why the Battleship North Carolina has long been considered one of the top three attractions in the entire state.
Battleship North Carolina is open every day of the year and that includes holidays! She serves as a landmark, an attraction, and a memorial as well. Being only a few miles away from Brunswick Forest, at Battleship Park, the U.S.S. North Carolina stands proud and ready for you to be a part of its crew. It's a piece of American history that must be seen to be believed.
Whether you're a big fan of American history, or just someone who enjoys an adventure, the Battleship North Carolina is an easy way to spend an exciting day down South!