Community Gardens in Brunswick Forest
April 5, 2019
ISWebmaster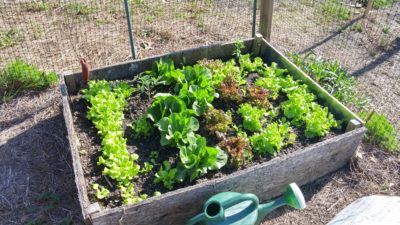 Spring is a special time of year because we can get back outdoors to the activities we love. Being a master-planned community that is interwoven with nature, Brunswick Forest is excited for residents to start engaging in outdoor activities again. One of the best ways to get involved, is to start planting flowers and produce at the community garden! Linda Ferry, the Community Garden Coordinator, explains why taking advantage of this amenity is such a great idea for residents looking to cultivate a green thumb of their own.
Having community garden space is important because it allows one to grow mostly anything. It's a fun outlet where residents can continue any gardening projects they might have had before moving to Brunswick Forest. Linda states, "Lots of people move to Brunswick Forest from different parts of the country, and many of them had gardens that they would regularly take care of. The community garden lets them continue those traditions." Currently, there are 28 residents that plant in the community garden, with room for five to ten more!
Many new residents quickly find that there's an interesting learning curve to gardening down South. "There's lots of learning regarding what you can plant and what you can't. There is a lot of hard work, successes and failures," Linda says. It is a great opportunity to embrace an outdoor/active lifestyle, and also to mingle with fellow neighborhood gardeners! Located near Cape Fear National, Linda goes on to say that, "Brunswick Forest has been very cooperative in providing us with a new lot to garden in." Fitness Center and resident sponsored activities director, Nicole Stone, was also a help in opening and expanding the new community garden area.
Kale, broccoli, sweet peas, radishes, carrots and lettuce are the typical produce that Linda sees growing this time of year. Cannon Lilies and sunflowers are popular decorative flowers that also grow well in the area. "Sunflowers do extremely well here at Brunswick Forest because they are tolerant of the hot weather," Linda states. Okra and rosemary are also popular with residents.
Residents who plant in the community garden should be wary of insects such as red ants. Linda doesn't discourage insecticides to help protect your plant foliage, but there are also natural alternatives that won't jeopardize your health. "Neem oil is a perfect way to keep pests away, while still being non-toxic for both you and your plants," Linda tells us. Linda also shares some helpful tips for anyone looking to grow this year. "Build 4 x 4 raised beds, be sure to treat the soil and keep it moist for plants to grow best. Make sure you fertilize your plants too."
In her own words, Linda states, "The best part of the community garden is the freedom it provides people in terms of growing options. Instead of being boxed in, people are allowed a more open place to continue doing what they love to do." Most of all, Linda points out that it's fun to see how creative residents get with designing their garden plots.
The community garden at Brunswick Forest is a great outdoor activity that gives you the satisfaction of growing your own plants. It's also a great way to grow new friendships and bond with people who love to garden as much as you do! We encourage you to roll up your sleeves and try getting a little dirty this spring; you might just find yourself engaging in a new favorite hobby!