The Wilmington Parade of Homes!
November 4, 2020
ISWebmaster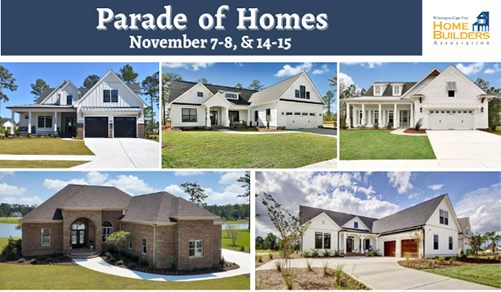 You've got to love that new-home smell! With so many aspiring homeowners looking to relocate in the wake of a pandemic, the desire to find the right home has grown exponentially along with those moving plans. People have long valued master-planned communities and other fantastic homes that are in the greater Wilmington area due to their ideal location. Now the city of Wilmington and Cape Fear Home Builder's Association invites you for a chance to see some of these homes in the Wilmington Parade of Homes taking place starting this weekend from November 7th – 8th.
The Wilmington Parade of Homes is one of the hottest events of the Autumn season and has been since 1986. Along with the recently held Brunswick County Parade of Homes (which listed two homes in Brunswick Forest as diamond award winners!) the Wilmington Parade of Homes will be sure to captivate anyone looking for a dream home in Southeastern North Carolina. Here are a few of our gorgeous model homes that will be featured in this year's lineup!
The Cooper's Bay: Built by Kent Homes, The Cooper's Bay is an open floor plan that shows a lot of character inside a well laid out area. It is a single-family home with three bedrooms and bathrooms and starts in high $400's. At 2,503 square feet, this home offers a lot of value including a kitchen with granite counter-tops, shiplap walls, fireplace, screened logia, and a bonus room.
The Wells: Extensive trims and built-in features adorn this lavish-looking model home. Built by Legacy Homes by Bill Clark this home has three bedrooms and three bathrooms with 2,510 square-feet of space. There is a formal study with coffered ceiling details, white painted wooden shelving, a walk-in pantry large enough for any hungry guests, and a split floor plan with a nice private owner's suite. Truly spectacular!
The Anchor: Built by premier builder Logan Homes and priced in the high $500s, The Anchor will have you looking forward to returning home after an active day. It is the kind of home that reels you in and charms you with hardwood, beam, and shiplap ceilings, an option for an additional loft, and even a gas fire pit for entertaining outside. The farmhouse elevation styling of this home is truly rustic and full of personality. It is a cozy home with 2,756 square feet to live out the best life possible.
The Bimini Bay: Fogelman Homes has been constructing quality dwellings in the Wilmington area since 1998. The Bimini Bay is the latest addition to their portfolio, and it is a true stunner, worthy of being in the Parade of Homes. Priced in the high $500s, this home is captivating with massive space. There are four bedrooms and four bathrooms, with 2,824 square feet of space to work with. There is an open kitchen with a vaulted ceiling and a very generous package of custom trims. You can even take advantage of a study room that has its own bath area. Like the Anchor, The Bimini Bay focuses on a rustic farmhouse style that is very endearing.
The Palmetto II: Finally, we come to a brick beauty that you will fall in love with it at first sight. Starting in the $700s, the 3,426 square foot Palmetto II by builder Liberty Homes offers the perfect balance between practicality and luxury. Such luxurious features for this home include an Italian-inspired kitchen area, oversized screened-in porch, a domed dining room ceiling, and a butler's pantry, complete with wine cooler. It is truly a showstopper home that everyone on the Parade of Homes should be on the lookout for.
We at Brunswick Forest are proud of having so many award-winning models in the Wilmington Parade of Homes for 2020. If you come to view these homes, and would like to see more of what Brunswick Forest has to offer, we welcome you to take part in our self-guided Coastal Homes Showcase, where over 30 of our model homes will be open. For more information, give us a call at 833-497-1001