The Importance of Convenience and Connection: A Look Into the Villages Town Center at Brunswick Forest
May 8, 2020
ISWebmaster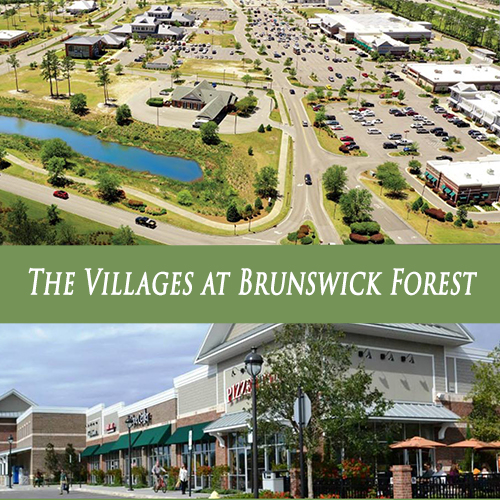 Why go further than you must to get the essentials you will need? That is the importance of having a community town center, such as the one here at Brunswick Forest. The Villages Town Center is 500,000 square-feet of convenience that every resident has access to, just minutes from their front door. Here are just some of the features that highlight the importance of having a community town center close to your residence.
There's dining in the form of The Joyce Irish Pub, seafood from the Shuckin' Shack, delicious pizza from Pizzetta's Pizzeria and fresh fare from Farmhouse Kitchen If you are looking to make something at home, there's grocery shopping to keep your pantry stocked. Not only do these locations provide more dining option variety for residents, but they act as meeting place where friends and neighbors can enjoy live music, drinks or dinner together. While there are plenty of great grocery stores throughout the greater Wilmington area, none are as convenient as the Lowes Foods in Leland. Aisle after aisle of provisions are in easy reach here. Produce, meat and dairy are all high quality and come from local farms all over the state of North Carolina.
Perhaps most importantly, there is a wealth of high-quality medical services. From imaging, to orthopedic matters, The Villages offers a variety of health and diagnostic services to address every illness and injury as well as services to help you maintain your healthy lifestyle. New Hanover Regional Medical Center has its own 40,000 square-foot facility at the Villages. It provides residents with all the medical care and testing possible and offers easy access to other facilities should the need arise. EmergeOrtho is one of the largest providers of orthopedic care and have a state-of-the-art building. Looking for therapeutic treatment to help any aches or pains? Christie Chadwick at CLC Healing Therapies will help you to maintain your physical health. There are also other businesses to help maintain your well-being, such as Coastal Integrative Health, Swell Vision, Blue Wave Dentistry, Hollywood Nails and Spa and even a large CVS Pharmacy.
Be it financial services, shopping for a new pair of shoes or just looking for a place to relax, The Villages is important because it gives you unparalleled access to the essentials in a great area. For more on the Villages Town Center, please follow The Villages at Brunswick Forest Facebook page.