Steadily Moving Forward: Park West Continues to Grow
September 14, 2020
ISWebmaster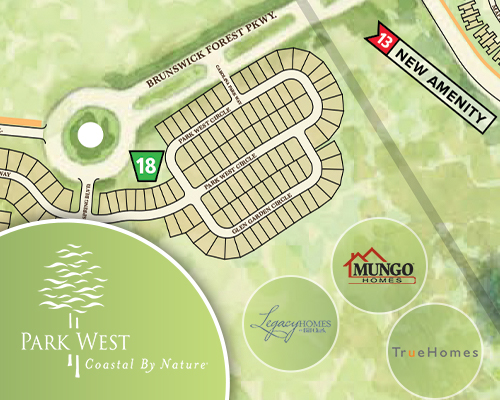 A bright future is on the horizon for the residents who live at Brunswick Forest. As more potential home buyers are looking to re-start a new chapter of their lives, Brunswick County and the greater Wilmington area have become prime targets for building. Certain neighborhoods in Brunswick Forest have seen a lot of new homes being built or under contract. Park West is one of those sought-after neighborhoods and has become a desirable place to settle down. Rich with a coastal cottage theme, Park West has become a premier focus of expansion throughout 2020.
Well-appointed homes with the added benefit of a rich amenity living, this is what makes Park West stand out in Brunswick Forest. When you tour this neighborhood, you will instantly be captivated by the quaint charming atmosphere exuded by the homes. One major feature you will instantly notice upon touring Park West is just how conveniently placed it is within the community of Brunswick Forest. This neighborhood is centrally located between the main Fitness and Wellness Center and Cape Fear National Golf Course, which means that if you choose a home here you will have easier access to some of the best areas in Brunswick Forest.
Over the year, Park West has made several major developments. Lots are quickly being filled as three of Brunswick Forest's building partners, Legacy Homes by Bill Clark, True Homes, and Mungo Homes, continue to impress aspiring homeowners with their floor plans. Currently Park West has 8 move in ready homes available, with more under construction and coming soon. Park West offers a multitude of attractive floor plans with upscale features. The homes that you will see in Park West meet the modern standards of building quality. They offer options like granite countertops, stainless steel appliances, and wooden flooring. Possibly the largest appeal is from the low-maintenance properties and exteriors that require minimal upkeep and can withstand the elements. There are two ways to purchase in Park West: Purchasing a move-in ready home, or a lot-home package. Between the three building partners here, there is a variety of floor plans offered, ranging from 1600 to 2500 square feet from the low $300's. Home packages that you can purchase start in the $300s as well.
New lots continue to be built in Park West as the neighborhood continues to expand, offering people more options than ever before. Park West offers smaller homes for those looking to downsize, single floor elevations, and many other luxurious features. If you are looking to have a change of scenery and make your move down into a more suburban area that has lots of potentials, then consider speaking more with the agents of Brunswick Forest. For more questions about how you can snag a new property within Park West, call us at 855.983.9579. And remember, you can also take a virtual tour of some of the homes for sale in Park West by viewing the Homes to Tour videos on Facebook. Or, view more properties over on Brunswick Forest's Homes Showcase digital flipbook.