Planned Communities vs Master Planned: The Brunswick Forest Difference is in the Amenities
July 15, 2020
ISWebmaster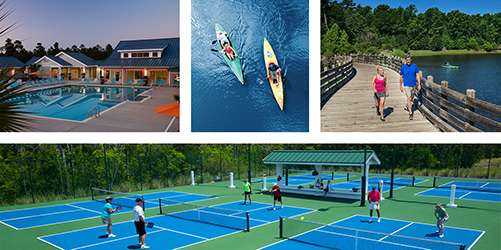 When you hear the words "planned community" you might think of an image of several houses packed together. Does that portray a Coastal By Nature® paradise? What is the real difference between a normal planned community and one that is master-planned? As the residents at Brunswick Forest have discovered, the deal maker is having a wealth of amenities at your disposal.
Life is good in the greater Wilmington area. But we do not need to tell you that! Thousands of residents have already discovered what living a coastal lifestyle can do for them. Beautiful beaches, shopping, dining, and historical areas are just some of the qualities that make our local area so desirable. But it is more than that. Brunswick Forest takes planned community living to the next level with no less than 10 luxurious amenities to keep you busy year-round. While a regular planned community might also have the same neighborhood layouts and framework, they are certainly not equal. It is the lack of amenities that really set them below anything that is considered master planned. Master-planned communities have the advantage of basically providing their residents with everything they need at arm's reach. There's little stress and more emphasis on improving the quality of living. Pools, golf courses, fitness centers and many more features are often what make a master-planned community so desirable. It is like your own private oasis.
Brunswick Forest not only checks all the boxes for a successful planned community, but it exceeds them by giving residents ample green space and an ideal location. Brunswick Forest is like its own city, adorned with plenty of space and everything to make you Coastal By Nature®. There's championship golf at Cape Fear National, no less than three saltwater pools, two fitness centers, multiple parks, several lakes, a kayak ramp and so much more. It has even become one of the most dedicated communities when it comes to walking and biking trails. Residents are also able to make use of the various clubs that cover every activity from books to gardening. Brunswick Forest is convenience for the modern homeowner, perfected. Unmatched variety that can accommodate any style of living.
If this sounds like the lifestyle for you, you need not look any further than the community of Brunswick Forest. If tennis courts, pickleball courts, golf, swimming, and a dedicated town center strike your fancy, be sure to learn more by contacting the real estate team at: 855.983.9579. View their Community Album, plan a Coastal Discovery Tour and get a taste for what awaits you here.