One With the Natural World: Nature at The Peninsula
August 9, 2021
ISWebmaster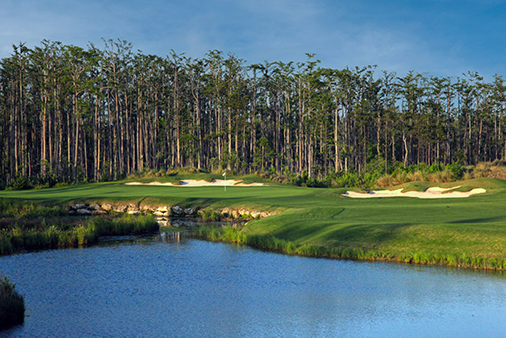 You often hear residents down in Brunswick County, and the Wilmington area in general, talk at great length about how important nature is to them. Nature helps settle your mind, allows for complete immersion in where you live, and just enhances one's overall quality of life. Brunswick Forest knows that this is important, as it's a big part of our community's identity. Our newest upcoming enclave of homes, The Peninsula at Cape Fear National, is surrounded by a wealth of nature including lakes and wooded preserves.
There's a lot to love when it comes to the natural environments around Brunswick Forest. Live Oak trees covered in Spanish moss have become a symbol of the Coastal South and can be found growing along many forested byways. Flowers such as dogwoods, azaleas, and magnolias carry sweet, scented aromas in the breeze. Shrubs and bushes help to provide cover and natural boundaries for property lines. Nature isn't just beautiful to look at, it provides a valuable home for local birds and other wildlife.
At Brunswick Forest, we've always dedicated ourselves to building around nature's wonder. Whether on our walking trails, out kayaking, or maybe playing nine holes at Cape Fear National, our residents are constantly reminded of why they love living here. The golf course here is one of the greatest places to have fun outdoors while immersing yourself in a serene environment. Being our most exclusive planned neighborhood to date, The Peninsula at Cape Fear National intends to blend all these qualities into one area.
Wooded nature preserves filled with famous longleaf pine trees will be surrounding each home here. Allowing for unmatched privacy and more green space that inbound residents can take advantage of. The purpose of these preserves is to provide a haven for animals and allow plants or trees to grow naturally unabetted by human hands. For residents, it provides great scenery and atmosphere for their neighborhood. The Peninsula will have amazing preserves along its borders. One preserve will border 18 homesites close to hole number 15 on Cape Fear National. Other preserves will be towards the entrance of The Peninsula, closer to hole number 17.
In addition to these natural areas, The Peninsula will also feature large green areas for common space. These locations can be used for everything from enjoying a morning stroll to walking the dog. An especially large natural area will run right through the center alongside Cobleskill Drive and Calusa Cove. Speaking of beautiful green areas, did we mention how The Peninsula will be nestled alongside three attractive golfing holes? Numbers 15, 16, and 17 will border this neighborhood, and offer exquisite views that only exclusive golf course living can provide. This is truly an environment where residents can live where they play.
The Peninsula has a lot of great water views too. Up to four small lakes are located all around the neighborhood as a part of Cape Fear National itself. So that means residents living here will be able to wake up and see nature in all its forms from their windows. These bodies of water will no doubt also lead to many wonderful encounters with local wildlife such as Egrets and Great Blue Herons.
Surrounded by nature on all sides of its project limits, The Peninsula at Cape Fear National is shaping up to be one incredible and very exclusive Brunswick Forest neighborhood. For more information on what The Peninsula is offering, you can RVSP a homesite now and find out more at brunswickforest.com. Or contact Brunswick Forest Realty at 833-497-1001.