Non-Profit Spotlight: Brunswick Family Assistance Gives Back to Brunswick County
October 6, 2018
Beth Burgee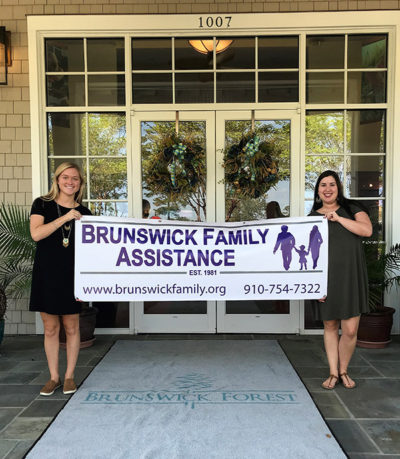 Collaborating with our local community to contribute and give back to those in need is an ongoing goal within our Brunswick Forest family. This initiative is accomplished by not only the support of our Brunswick Forest and Cape Fear National staff, but also through the assistance and contributions of our amazing residents. Participating in various volunteer initiatives, donation drop-offs, hosting fundraising events, and more, our neighborhood is proud to be a part of the Brunswick Family Assistance mission to improve the lives of families and individuals in crisis in Brunswick County.
Joining together as a community to help those in need following the wake of Hurricane Florence, Brunswick Forest has dedicated our fall concert in Annsdale Park to be a Brunswick Family Assistance Benefit Concert. Taking place on Saturday, October 6th from 6:00-8:00pm, there will be a BFA tent set up as a donation drop off for hurricane relief supplies for the duration of the concert. These supplies will benefit hurricane victims within our local community.
"Brunswick Family Assistance is a transformative, forward-looking and collaborative organization that helps low income people in Brunswick County to live a high quality of life. We envision a community where all people have access to an adequate and nutritious supply of food and sufficient resources to sustain themselves. BFA shall continue to be a leader in partnering with other organizations to help solve community problems. "
In 2016, BFA distributed 148,124 pounds of food from their local food pantry to 4,700 households and 16,064 individuals and 210,278 pounds of USDA surplus food to 3,562 households and 8,453 individuals as part of The Emergency Food Assistance Program. Their Rental Assistance Program provided $66,501 to 236 households in 2016. As a host to several other initiatives throughout the year, BFA takes part in financial assistance programs, Christmas programs, Book Bag (Christmas in July) drives and financial literacy programs that give back to those in need in Brunswick County.
Join the mission to bring help and hope to Brunswick County. Learn how to do your part in giving back to our local community by visiting their website.
866-831-8382
www.brunswickforest.com