It's Donation Day at Brunswick Forest!
September 7, 2018
Beth Burgee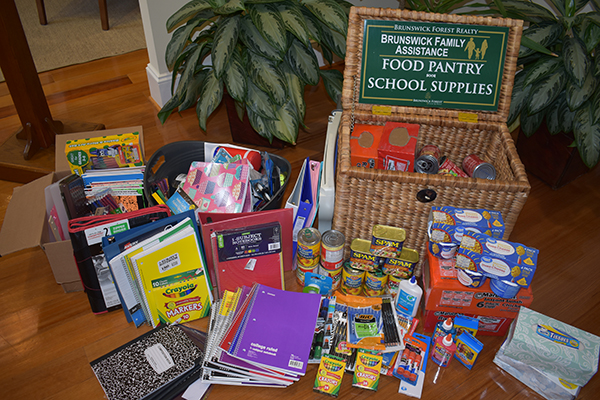 The Brunswick Forest Welcome Center closed out the first week of September by dropping off food donations to Brunswick Family Assistance as well as school supplies to Lincoln Elementary School. The Welcome Center collects donations throughout the year for Brunswick Family Assistance as well as for schools in the Leland area.
Brunswick Family Assistance
Donations to Brunswick Family Assistance included non-perishable food items that will be distributed to those in need within Brunswick County. BFA is a private non-profit 501(c) 3 in their 35th year of operation. They are dedicated to improving the lives of families and individuals in crisis in Brunswick County, who are willing to help themselves, by providing emergency assistance and educational and skills development programs.
In addition to donating non-perishable food items throughout the year, Brunswick Forest also provides Christmas gifts, food and clothing during the holiday season. These donations primarily come from Brunswick Forest staff, members of our preferred builder team and residents.
Lincoln Elementary School
Also host to several school supply drives throughout the year, our Welcome Center donated notebooks, folders, pens, pencils and other school supplies to Lincoln Elementary School in Leland, NC this morning. This is a part of our ongoing initiative to helping local schools within the community.
Lincoln Elementary serves over 650 students from the Leland community. They strive to build a community of LEADers through PBIS (Positive Behavior Intervention and Supports), high academic standards, and a passion for the student as a whole.
Interested in getting involved?
Brunswick Family Assistance offers various ways to give back. Check out their website for more information on upcoming volunteer opportunities, different ways to donate and ongoing fundraising events in the community.
21636
false
true
true
false
true
true
false
auto
false
ease-in-out
300
auto
false
0
true
false
%curr% of %total%
866-831-8382
www.brunswickforest.com