It's Donation Day at the Brunswick Forest Welcome Center!
December 12, 2017
Beth Burgee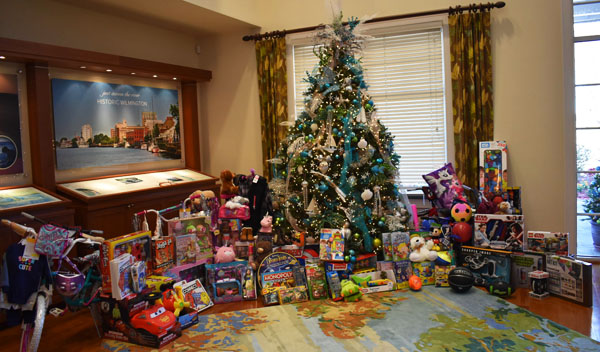 "Kindness in words creates confidence. Kindness in thinking creates profoundness. Kindness in giving creates love." – Lao Tzu
Giving back during the holidays can be done in many ways. While everyone can be guilty of getting caught into the hustle and bustle of the busy holiday season, it's so important to take time to slow down, show appreciation for your blessings and find time to give back.
Giving Back
"For 10 years, Brunswick Forest Realty has made a difference for families in the Leland Area by providing Christmas gifts and food in various ways. This year, we are able to reach a much larger Leland population by partnering with Brunswick Family Assistance, a non-profit here in the county," said Lynn Crawford, who has overseen our holiday toy drive for 9 years now.
Packing two trucks full of toys, bikes, clothes and more, a few members of the Brunswick Forest team spent Tuesday morning dropping off donations to Brunswick Family Assistance in Leland, NC.
Brunswick Family Assistance
Brunswick Family Assistance is a private non-profit 501(c) (3) organization now in their 35th year of operation. Focusing on their mission statement in every fundraiser, event and specialty program offered; they are dedicated to improving the lives of families and individuals in crisis in Brunswick County, who are willing to help themselves, by providing emergency assistance and educational and skills development programs.
Getting Involved
Donations poured in from our Brunswick Forest team members through out the month of December and extended further out into the community as well. Tribute Homes and Liberty Homes, both preferred builders within Brunswick Forest, contributed bicycles and several other large toys towards today's donation. Inspired by the generosity and display of gifts under our tree, some of our homeowners in the community also contributed monetarily to the cause.
Brunswick Forest has also been collecting non-perishable food and household items for donation to the local community via Brunswick Family Assistance. These donations will be distributed in conjunction with the gift contributions to those in need. Also scheduled this week, our Brunswick Forest team will be volunteering on Wednesday, December 13th, to help hand out toys to the designated families at Closer Walk Church in Leland, NC.
Interested in getting involved?
Brunswick Family Assistance offers various ways to give back. Check out their website for more information on upcoming volunteer opportunities, different ways to donate and ongoing fundraising events in the community.
888.371.2434
www.brunswickforest.com