Brunswick Forest's October Concert in the Park to benefit Brunswick Family Assistance
September 26, 2018
Beth Burgee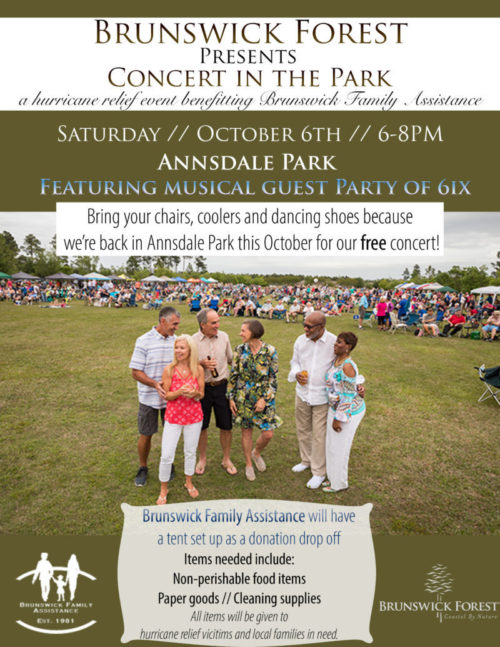 Brunswick Forest is teaming up with local non-profit, Brunswick Family Assistance, during our upcoming Fall Concert in Annsdale Park on Saturday, October 6th for a Hurricane Relief Benefit Concert. BFA will have a tent set up to serve as a donation drop off for Hurricane Florence victims as well as other local families in need through the duration of the concert.
Items needed for donation include:
Non-perishable food
Canned or dried soups
Canned vegetables
Diapers
Toiletries
New towels
New Sheets
New clothing – any size
Cleaning supplies
Paper towels
Brunswick Family Assistance is dedicated to improving the lives of families and individuals in crisis in Brunswick County, who are willing to help themselves, by providing emergency assistance and educational and skills development programs.
Brunswick Forest will kick off their second concert of the year on Saturday, October 6th. Located in sprawling Annsdale Park, the concert will be held from 6-8pm and features musical guest Party of 6ix. The concert is free and open to the public!
If you'd like to learn more about Brunswick Family Assistance's role in our community, visit their website to learn more. BFA offers volunteer opportunities, donations  and fundraising events for those looking to get more involved in helping to give back to our local community.
866-831-8382
www.brunswickforest.com