Local Beach Landmarks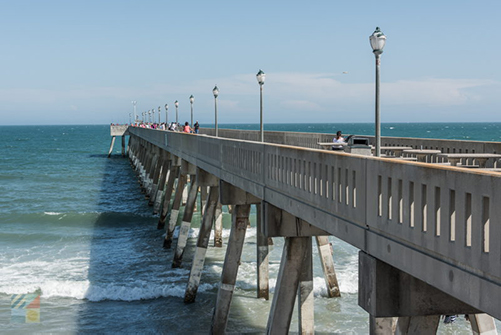 With summertime just around the corner, the greater Wilmington area is gearing up for some great times and fun-filled memories. Summer around here means spending ample time on one of our seven white-sand beaches. From fishing piers to lighthouses, these locations attract thousands of tourists each year.
Johnnie Mercers Fishing Pier:
One of the most iconic beach-related structures would be Johnnie Mercers Fishing Pier. Located in Wrightsville Beach, this famous landmark has a long history behind it. Originally built in the 1930s by Julian Morton, the pier was once a simple wooden structure designed to provide an easy recreational outlet for locals. A developer named Luther Rogers bought it from Morton, who owned it until 1939. Rogers then sold it to its most famous namesake, a singer and songwriter named Johnnie Mercer. Mercer ran the pier for 20 years, with the landmark retaining his name even after he died in 1964. The original wooden pier lasted until 1996 when Hurricanes Fran and Bertha damaged it beyond repair. Rebuilt in 1999, the fishing pier was reborn as the first concrete fishing pier in North Carolina.
Extending 1200 feet into the Atlantic Ocean, this pier is famous with locals and tourists alike. It allows for excellent fishing spots, photo opportunities, and a nifty grill that serves up great food. Visitors will find a gift shop, fishing tackle shop, and a place to relax with a beer or two. Johnnie Mercers is more than just a fun way to spend a summer day, it's become a beloved symbol of Wrightsville Beach. And no trip here is complete without stopping by the pier at least once, especially if you love to fish. Make sure you bring your fishing license. Fishing passes are $8.00 per rod!
Carolina Beach Boardwalk:
The town of Carolina Beach is smaller than Wrightsville Beach, but each summer it still welcomes hundreds of guests. As you walk around the beach and enjoy the sand between your toes, you'll no doubt be looking for a place to eat or an area to browse local shops. For this, there's no better place than the historic Carolina Beach Boardwalk. Stretching up and down the length of Carolina Beach, this boardwalk was named one of the best in the entire nation by Budget Travel. The summer season here brings live music, amusement park rides for kids, sweet treats, street food, colorful shops, and weekly fireworks! Local establishments along the boardwalk include Carolina Smokehouse, Pop's Diner, Krazy Kones, Suchkin Shack, Fentoli's Pizza, The Fudge Boat, and of course Britt's Donuts. Britt's alone attracts hundreds of patrons each year, with folks lining up early in the morning just to get a taste of their famous glazed donuts. You can also find beach gear and souvenirs at the Seaside Shenanigans Gift Boutique.
As one of the last of its kind, you must put the Carolina Beach Boardwalk on your summer bucket list and experience it for yourself!
Oak Island Lighthouse:
Oak Island is one of Brunswick County's most famous beach areas. Located where the mouth of the Cape Fear River meets the Atlantic, Oak Island is one of the last ports of call for visitors heading out to Bald Head Island. However, there's a lot to love about the beach on Oak Island as well. For many locals, this is a great place to get away from some of the heavier summer beach crowds.
One of the most notable landmarks to visit here is none other than the famous Oak Island Lighthouse. While Old Baldy on Bald Head Island is famous for being the oldest standing lighthouse in the state of North Carolina, the Oak Island Lighthouse is also impressive. Still, in use as a functional lighthouse, this structure was completed in 1958. Standing 169 feet above the water, the new LED lights of this landmark still help ships navigate past the treacherous Frying Pan Shoals and into the Cape Fear River. For those looking to experience this imposing concrete structure for themselves, you can tour the lighthouse by climbing up all 131 steps to the top. Tours of the lighthouse are currently looking to open back up in July of 2021. But you don't need to climb the lighthouse to appreciate the historical significance of this landmark to Oak Island.
With so many incredible areas to visit in and around Brunswick Forest, you really do need a bucket list. Fortunately, these three amazing locations will help you get a head start in immersing yourself in local culture this summer!