HOGs in the Forest – Born to Ride!
February 23, 2019
ISWebmaster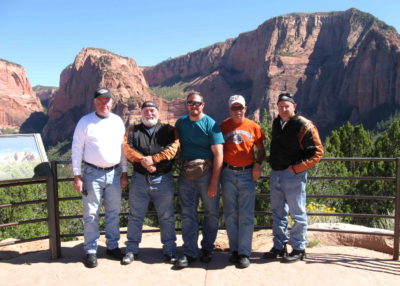 Brunswick Forest takes pride in its active community. One resident-organized club in our community is made up of motorcycle enthusiasts. The group is called the HOGs in the Forest. HOGs in the Forest are a group that knows how to make the most out of life. This group enjoys cruising across the country on the open road and donating to local food drives. How did the HOGs come to be, and what are their plans for their future?
In 2009, Drew and his wife Lynn were new to Brunswick Forest. Drew realized that one of the builders was also a Harley owner, and they quickly formed a bond. After settling down in our master-planned community, Drew initiated a small riding group with other Brunswick Forest residents.
"Slowly, I began to see more residents at the pool or in the gym wearing Harley shirts, so I would talk to them," he stated. The addition of fellow riders John D'Abrosca and Greg Miller, made HOGs in the Forest official. Over the years, the group has grown to a whopping 80 members and 40 bikes in total! Drew explained that the idea behind HOGs in the Forest was to give the group of Harley owners a place to ride together. As a result, many of these riders have now become close friends. Daily activities range from local lunch rides to exploring backroads, golfing, and playing pickleball together.
Throughout the year, HOGs in the Forest will venture out on several larger trips. Weeklong trips, both in and out of state, are not out of the question for this adventurous group. They've traveled to the North Carolina mountains, Virginia and all the way to Tennessee! Each summer, a group of riders will go out West to see all the major national parks. In 2017, the HOGs even participated in the big motorcycle rally in Sturgis, South Dakota. Some of Drew's favorite places include Zion, Bryce Canyon, Yellowstone, Mount Rushmore, and the Badlands.
Aside from all the adventuring, HOGs in the Forest contributes to many local causes. They are well known for their Christmas holiday food drives, collecting food for Leland's Manna Ministries. HOGs also collect pet food for the Brunswick Animal Shelter. During the holiday season, HOGs in the Forest can be seen dressed as elves and spreading cheer as they host a party for all the children of Brunswick Forest!
HOGs in the Forest also engages in many charity rides as well. This has included riding for fallen officers, the Vietnam veteran's wall in Jacksonville, NC and Toys for Tots.
For 2019, HOGs in the Forest is looking forward to a weeklong trip up to Gettysburg, PA. Riding to the Outer Banks here in North Carolina is also in the works for the spring season. Ideas for a possible bike trip in the fall include places like Colorado and Yosemite National Park.
Freedom to live life is possible in Brunswick Forest. HOGs in the Forest is just one group of incredible people who embrace this ideal to the fullest! Drew stated that the HOGs in the Forest experience is all about "good friends with common interests, riding together and looking out for one another."