THE HOGS ARE ROLLIN' IN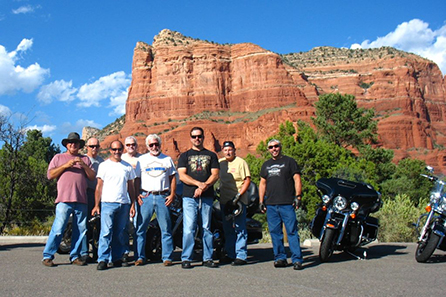 For motorcycle enthusiasts and those who love the open road, Brunswick Forest is excited to introduce you to the Hogs in the Forest! Formed by residents in the community back in 2012, the Hogs are composed of men and women who all love to hit the road on both two- and three-wheelers. The Hogs love to travel and venture to new frontiers.
TRAVELING THE OPEN ROADS
Riding together at least once a week, the Hogs will take a number of road trips throughout the year. So far, the group has been all over the state of North Carolina including trips to the Outer Banks and up to the Blue Ridge Parkway. They even enjoy longer trips to locations like eastern Tennessee and areas on the West Coast like Las Vegas, Nevada and Phoenix, Arizona. This year, a few members are shipping their bikes out to South Dakota for the Sturgis Motorcycle Rally in August!
GIVING BACK
A significant element to this group of motorcyclists is giving back to those in the community. Every year, the Hogs in the Forest works with the Brunswick Forest Fitness & Wellness Center to organize a charity fundraiser to raise food for Leland's Manna Ministries and the Brunswick Animal Shelter for the Thanksgiving and Christmas holidays. Last year they attained great success with over three truckloads full of food donated to the cause. The Hogs also hold a yearly Christmas celebration for all the children in Brunswick Forest. Dressing up as Santa Claus, Mrs. Claus, elves, and reindeer, the Hogs ride around the neighborhoods of Brunswick Forest on their decorated motorcycles to celebrate the joy of the Christmas season!
RIDE ALONG
Joining The Hogs in the Forest is a great way to get involved in the Brunswick Forest community, explore the local area, and take exciting trips with fellow residents! With a number of events organized with the Fitness & Wellness Center here in Brunswick Forest and within the group, the Hogs are often seen throughout the community and out on the town!
Photo courtesy of North Brunswick Magazine.
866-831-8289