Hogs in the Forest Annual Holiday Food Drive
November 13, 2018
Beth Burgee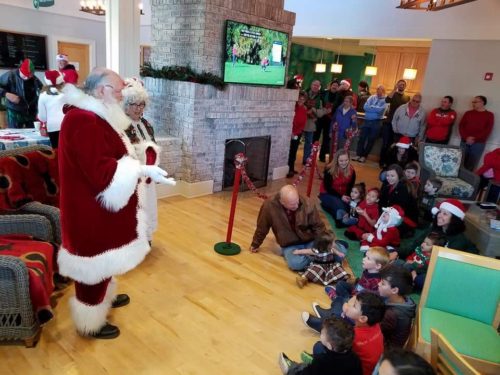 Tis the season, ladies and gentlemen!
Our Brunswick Forest Hogs in the Forest began their annual Holiday Food Drive benefiting Manna Ministries of Leland, NC and Brunswick Animal Shelter this past Friday, November 9th with a donation drop box at the Fitness & Wellness Center.
Since it's conception is 2012, John and Nancy D'Abrosca have grown this motorcycle enthusiasts club into one of the most active and popular groups in our community. Members share a common passion for riding bikes, hitting the open road and giving back to our local community.
One of their signature events every year, the month-long Annual Food Drive is followed by a motorcycle parade through Brunswick Forest that ends at our Fitness & Wellness Center in time for the Annual Hogs in the Forest Christmas Party, taking place on Sunday, December 9th.
This event is one of our favorite community events of the year. Arrive to the Fitness & Wellness Center a few minutes early to watch as the parade arrives at the Annual Christmas Gathering. Children in the community are invited to sit with Santa and get their photo taken, listen to festive music, partake in holiday cookies and juice and enjoy the company of fellow Brunswick Forest residents during the busy holiday season.
22399
false
false
true
false
true
true
false
auto
false
ease-in-out
300
false
0
true
false
%curr% of %total%
Aside from their  Holiday Food Drive, Children's Party and Motorcycle Parade, the Hogs have also helped to lend a hand in our local community following Hurricane Florence. The group meets each Tuesday at Port City Java, located in The Villages at Brunswick Forest, to discuss new initiatives and endeavors to help out those in need.
Most recently, the group joined together to help an elderly woman empty the entire first floor of her home, including floors, walls, appliances, etc. that was compromised during the storm.
Would you like to get involved? See below for the donation wish list for the Brunswick County Animal Shelter.
Puppy Food
Kitten Food
Flea and Deodorizing shampoo
Blue Dawn Dish Detergent
Bleach
Laundry Detergent
Towels (bath & hand) size
Pill Pockets
Dog Kongs
Cat Toys
Hand Sanitizer
Fabuloso and Mr Clean with Febreeze
Newspaper
Paper Towels
For more information on this event, please contact the Fitness & Wellness Center at (910) 342-2215
www.brunswickforest.com
866-831-8382