Have a Question? Let's Chat!
April 3, 2020
ISWebmaster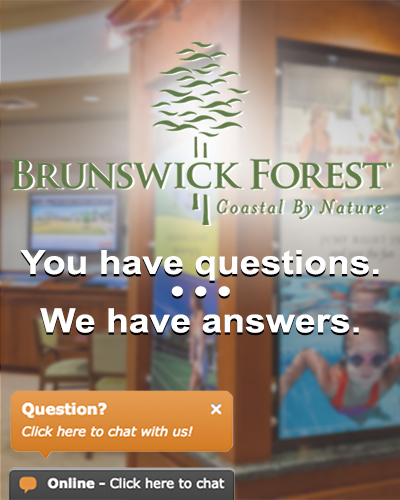 If you have any questions about what it's like to live a coastal lifestyle, then the helpful staff at Brunswick Forest can help you arrive at an answer! Moving to a new area, or even just planning for a relocation, is one of life's biggest occasions. Regardless of what questions you might have about the community here at Brunswick Forest, our live chat specialists are a perfect option to get some feedback in real time!
You might be thinking about moving for a variety reasons; it could be that you've had enough of the high tax-rate in your area, want to move to a warmer climate, or maybe you just have an empty nest and finally have the opportunity to truly retire. Either way, there's a lot to think about. What you need to know, is that even if your predicted move is a few months out, Brunswick Forest helps to do a lot of the thinking for you! So put that brain of yours at ease, because live chat will help get you the answers you're looking for. Katie McAlick, one of the full-time attendants that manages the Brunswick Forest live chat, is known for helping to answer frequently asked questions for aspiring homeowners. Some decide to ask about utilities at Brunswick Forest, others choose to ask questions the lower tax benefits of moving to North Carolina. Some of the most popular questions also include the differences between attending a sales event weekend and using a Coastal Discovery Tour, how our 11 preferred builders  accommodate different lifestyles and pricing/HOA information.
One of the biggest advantages that you can take away from Brunswick Forest's live chat service, is that your questions will be addressed in a timely manner by actual live people on the other end. The team at Brunswick Forest are always willing to get you the answers you need or to point you in the right direction. Residents also benefit from the live chat, as all communications are streamlined for their convenience. It's more than just another option to speak to the team at Brunswick Forest, live chat is a powerful tool to assist you whenever you might need it most. You can really feel confident in the information you receive as its being funneled straight through the welcome center staff. It's the kind of personal interaction that you don't always get from other communities. After all, if you're planning to move or visit the greater Wilmington area, wouldn't you feel better knowing the details ahead of time?
If you're planning a visit to Brunswick Forest to see if being Coastal By Nature® is right for you, find our live chat feature on www.brunswickforest.com. If you have questions about the touring process here, or just want to know more about amenities and open models, Katie and the live chat crew are more than happy to guide your way! Prefer to call? Dial 855.983.9579