Fall in Love with Brunswick Forest: Our September Coastal Home Showcase
September 3, 2021
ISWebmaster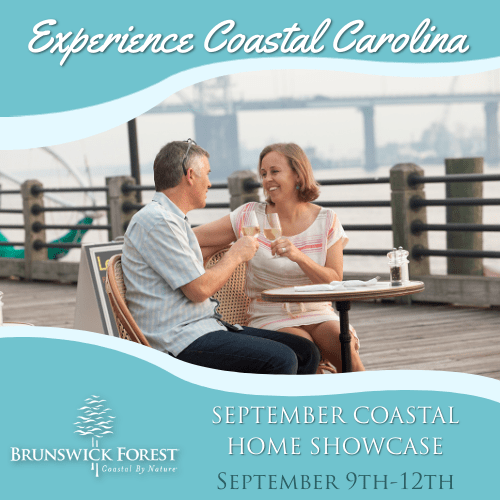 As summer finishes up and September approaches, people will often start thinking of milder weather. Some might even start stocking up on pumpkin-spiced everything and begin to see leaves changing on the trees. In the Leland locale of North Carolina, we're blessed to have year-round mild temperatures, so there's always an opportunity for having a great time. If you've been thinking about making Brunswick Forest your home, then now's the time to start planning for a visit via our Coastal Home Showcase.
Our next home showcase event is on track to take place September 9th through the 12th, and we're already excited to see how many aspiring homeowners make their way here to be a part of Brunswick Forest. Visiting us doesn't just have to be a weekend event through our showcases. You can visit any time of the year through our regular Coastal Discovery Tours. But the advantage of seeing our community through a Coastal Home Showcase provides you with a set structure of special events that you can choose from, and an opportunity to get to know our residents in person.
From cocktail hours to championship golf and a horse-drawn carriage, there are plenty of fun events to get excited for:
Friday:
The official start of the September Coastal Home Showcase begins at 10 am and lasts until 4 pm. Throughout the day, you will be able to tour a multitude of model homes in different neighborhoods. During your stop in each one, you will be able to speak with a representative from one of our premier builders. We're confident that you will be blown away by what our partners have to offer, and their agents will be on hand to answer any of your questions. You could very well find the home that you've been dreaming of right here in Brunswick Forest during this event!
All that exploring is sure to make you hungry. Well, don't worry because one of our building partners will also be catering food. Friday's lunch will be hosted by Fogleman Custom Homes held in their exquisite Bimini Bay model home.
Later, you can look forward to a mellow evening with our wine-down event. Here you will be able to try a variety of wine tastings and appetizers both prepared by Bridgewater Wines. While you relax, you can enjoy the soothing sounds of a local musician Wes Hunter setting the mood. Our team hopes you're ready for some more fun because the weekend is just getting started. 
Saturday:
The official September Home Showcase will still be going on throughout Saturday from 10 am – 4 pm, giving you plenty of time to fit in more model touring in between your other activities. Just like before, there will be an opportunity to meet some of the finest builders in the Carolinas. If you have questions about building dates, home customizations, or floor plan options, this is the time to do ask them! Another incredible builder lunch will be hosted by Kent Homes in the Cooper's Bay.
Towards the end of the day, you'll get to spend time with fellow guests and actual Brunswick Forest residents at our cocktail hour. This will be a truly fantastic end to the day with refreshments on hand, gourmet fare, and Monica Jane providing signature songs live in the Legacy Homes Design Center. You'll also get a great chance to go behind the scenes and see the latest home trends and learn about the design process.
Sunday:
This will be the final day of the September Home Showcase. So, if there's a particular house or builder that has captured your attention, now's your chance to focus on taking the next steps towards your forever home in Brunswick Forest.
Aside from all the main festivities planned for the weekend, you will also get the chance to choose from a variety of great activities that includes cruising on the Cape Fear River with Wilmington Water Tours, a charming horse-drawn carriage ride through historic downtown Wilmington, a tour of Airlie Gardens, or a round of championship golf at Cape Fear National. In addition, you will have the unique opportunity to live like a resident for a day! You will get privileges and exclusive access to all amenities such as our biking trails and pickleball courts.
Don't forget, if you're not able to make it to the September event, keep your eyes peeled! Brunswick Forest will be hosting another Coastal Home Showcase Weekend in October. RVSP on our website or contact us at 833-497-1001.