How To Make The Most Of Your Showcase Weekend.
February 15, 2021
Beth Burgee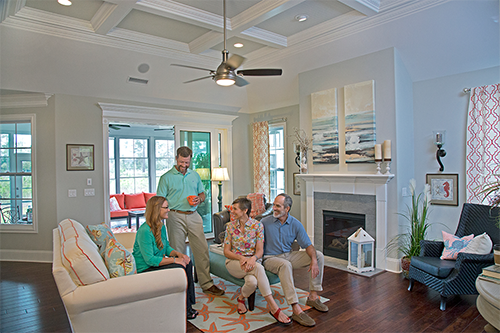 Several times a year Brunswick Forest hosts one of the premier Coastal Homes Showcases highlighting all of the community's new home construction.  These Showcases give prospective buyers a chance to walk through each floor plan and find a plan that fits their taste and style but it can also be overwhelming.  Here are a few steps you can take to make sure you are getting the most out of your showcase experience.
Step One: Determine your budget. While looking at homes above your price range can be fun, it's not always a good use of time — and it can lead to heartbreak when you realize it's not financially feasible.  Brunswick Forest features a selection of new homes in its showcase in a variety of price points.  Each home is listed in the showcase book with its purchase price or the build on your homesite price.  Take a few minutes before you venture out and discuss which homes interest you in your price range.  If you aren't quite sure what your budget is, take a moment to chat with one of our lenders, Southern Trust Mortgage, who can help you get a feel for your ideal price range.
Step Two: Make a checklist. Making a list of the features you wish to have in your new home can help you stay on track as your search for a new home. You can also take a couple of photos or even a short video of the homes you like to help you remember the features you liked the best.  Think about your lifestyle when making the list.  For example; if you like the outdoors does the home have a lanai or an outdoor patio? Is the outdoor large enough to entertain guests?  You are going to see a variety of homes during the event and it might be hard to keep them straight, that's why the checklist can be useful.  You can even use the showcase guide to rate the homes you like the best so you can review them later.
Step Three: Ask questions. Brunswick Forest has a team of preferred builders that will have a representative present at each Showcase event.  These builders are available to meet with you personally to discuss the details of the homes you are interested in or one that you may want to build. They can also discuss building time frames, the selection process, and any upgrades you wish to make. Your Brunswick Forest agent is also a very knowledgeable source of information to answer any questions you have about the amenities, our clubs, the local area, taxes, and HOA related matters.  They are here to be a resource for you, so don't hesitate to ask them questions.
Step Four: Explore!  Sign up for the excursions so you can explore the local culture.  Check out the beach or take a drive through downtown. You want to learn everything you can about the area that will become your home.  While you are here, check out the amenities.  Take a bike from the welcome center and go explore the trails and parks at Brunswick Forest, you may also bump into some residents on your journey. Take a moment to introduce yourself and ask them what they like about living here.
Step Five: Relax and have fun.  The showcase weekend was designed with you in mind.  We want you to learn all you can while you're here but we also know you need some down-time too. Enjoy our activities but take some time to relax and evaluate what you've seen. Our community is an active place, filled with friendly neighbors and beautiful homes.  If Brunswick Forest is a good fit for you; we will help you find your place here.
If you are interested in attending one of our 6 Showcase Weekends, simply click here for more details.