Choosing Between A Coastal Discovery Tour or A Community Event Weekend
April 24, 2020
ISWebmaster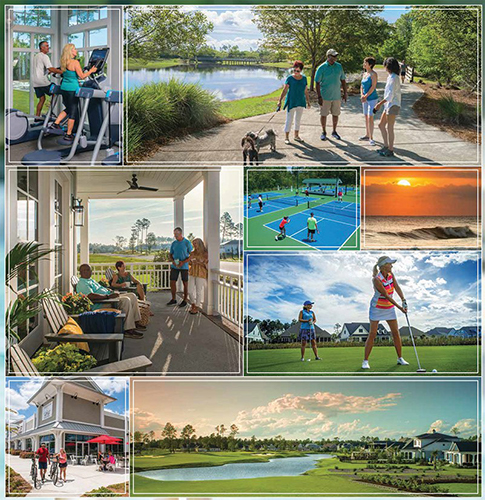 There's no such thing as having too many choices! Each person has his or her own preferences when it comes to choosing a place to live. But one thing is for sure, it's always best to go with a master-planned community that keeps your lifestyle needs in mind. This includes having touring options that work around your schedule so you can see the neighborhoods that interest you most and experience Brunswick Forest the way you prefer.
Brunswick Forest has available property in over 10 distinct neighborhoods with 11 preferred building partners and 10 luxurious amenities; this is one community you want to take your time and see every bit of. That's why when you're curious to start living your coastal lifestyle, we provide two options for you to take advantage of.
If you're looking to get a full community experience and see what it's like at Brunswick Forest during our largest events, you'll want to come on down and enjoy our Property Release and Home Tour Weekends! These Community Event weekends will often have a set itinerary for each day, and last from Thursdays to Sundays. Fun communal activities will include bike riding, cooking demos, breakfast and lunch provided by one of our amazing builders in a model home and extraordinary dinner events! Sometimes concerts will be presented over at Annsdale Park complete with food trucks or local catering from nearby restaurants like The Joyce and Shuckin' Shack. One of the best parts of choosing to visit Brunswick Forest during these community events, is that you get to experience everything the community has to offer alongside other aspiring homeowners just like you. Exploring a new adventure is always fun with a few new faces to tag along. During a sales weekend event, you'll also get to speak to some of our resident ambassadors! Resident ambassadors are representatives of the Brunswick Forest community, and can let you know how living in Brunswick Forest has shaped their lives for the better, and how you can do the same!
For those looking to have a little more private and personal time to explore everything Brunswick Forest has to offer, from amenities to model homes available for touring, there's our Coastal Discovery Tour! Looking for the option of bopping back and forth through each neighborhood, seeing which option is right for you while still living like a resident for a weekend? The Coastal Discovery Tour allows you to set your own pace in discovering a coastal lifestyle. Our friendly and helpful real estate agents will take you where you're looking to go, and give you plenty of time to explore the local area, such as historic downtown Wilmington.
Make no mistake, if you want to try both sides of the coin, you can do that too at Brunswick Forest! There's plenty of visitors who have come during sales event weekends and love the experience so much they come back for a more individualized Coastal Discovery Tour. That way you can get the fullest picture possible of everything that Brunswick Forest offers to enhance your lifestyle for the better. If you're looking to learn more about how you can plan to tour using either of these options, be sure to contact our team at: 855.983.9579