The Villages At Brunswick Forest – Savor Live Music And Fare At The Joyce
October 4, 2019
Katie McAlick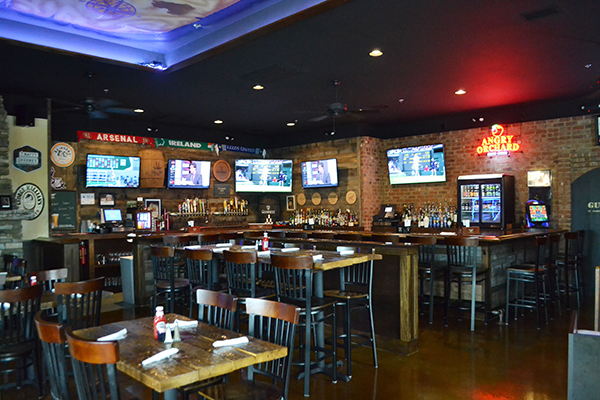 Opening its doors in July of 2016, The Joyce Irish Pub & Grill has been the go-to staple pub here in The Villages at Brunswick Forest. From your favorite bar fare and authentic Irish dishes to both local and standard beer, The Joyce offers delicious food in a lively community atmosphere.
We sat down with owner, Laura Richardson, this week to learn more about The Joyce, their upcoming yearly events, food & beer, and (in case you haven't heard) their new addition to the pub!
Upon asking Laura why they chose to start their restaurant here in The Villages at Brunswick Forest, she said that she "has seen so much growth in the area and in the Brunswick Forest community." Having worked in the restaurant business here in Leland for years, Laura has made many friends and connections to residents of the town and visitors exploring Coastal Carolina.
The Joyce is a hub for community activities–from live music every weekend to annual events like their St. Patrick's Day celebration—there is always something to look forward to. In May, they have their anniversary party, a day equipped with corn hole boards, great food and drinks at the bar and outside patio, alongside a live band and family fun.
Add in their new addition of a pool table, dartboards, and extra seating and you and your friends & family are all set for an evening of entertainment!
As you're listening to live tunes or taking turns throwing darts, savor delicious, freshly made fare of the popular Rueben and Fish & Chips, or enjoy a more traditional meal such as bangers and mash—Irish sausage laden with Guinness sauce—and the classic corn beef and cabbage.
Of course, it wouldn't be The Joyce Irish Pub & Grill without some of the best local beer. With 26 beers on draft and new beers every week, The Joyce offers an extensive assortment of cold brews for you to test out. Starting just next month, The Joyce will be bringing back their Wine & Beer Dinners and with it, the perfect opportunity for you to try out the new seasonal brews.
Between annual family events & celebrations to relaxing nights with live music, The Joyce always has entertainment for you to enjoy with family and friends. With great food and a welcoming community, it is a pleasure to have businesses like The Joyce right at home here in Brunswick Forest.