Brunswick Forest's Spring Discovery Guide
February 22, 2021
ISWebmaster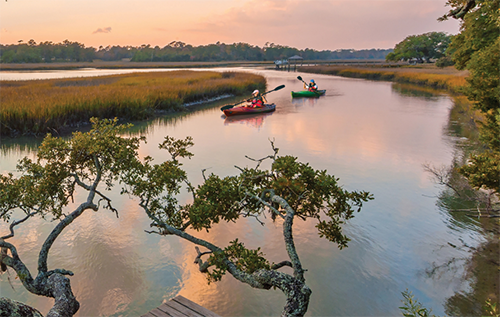 Has there ever been a better time to make for warmer parts of the country? Shorter winters look much more appealing than enduring another out-of-season snowstorm. If you are in the middle of your home discovery process, then consider visiting us here at Brunswick Forest through our Coastal Discovery Tour.
Sure, Spring is not quite here yet, but it will be before you know it! It is best to be prepared so that you have a relocation plan when the time comes. Springtime is always special in Southeastern North Carolina, and especially in the greater Wilmington area near our community of Brunswick Forest. With Winter weather still plaguing a lot of the country, now might be the time to relocate. Well, the team at Brunswick Forest has a way for you to make the most of your spring experience AND land a new place to live in a warmer climate.
If you are an aspiring resident who has read our past blogs, you might have heard the term "Coastal Discovery Tour" come up more than once. Our Coastal Discovery Tour is your private vacation. Unlike our upcoming Coastal Showcase Weekends, which have set schedules and multiple families, a Coastal Discovery Tour is experienced at your own pace (Though both are great options.)
Our Coastal Discovery Tour is a three-day, two-night opportunity for you to come on down to Brunswick Forest and experience the Southern side of life. Each tour includes a whole host of accommodations including being chauffeured around our community, experiencing the wealth of home choice and luxury amenities. You will even get the opportunity to be a resident for a day with full access to our fitness center, walking trails, and other amenities. You also get a day to fully explore the beauty of historic downtown Wilmington, North Carolina, cruise our seven nearby beaches, and enjoy other points of interest. If you want to see it, we will do our best to accommodate you with the full royal treatment. As a part of this package, you will be able to choose between three enjoyable activities to experience what our area is all about. This includes championship golf for two at Cape Fear National (right in our community), a scenic cruise on the lovely Cape Fear River, and a horse-drawn carriage ride in historic Downtown Wilmington. Either of these is the perfect choice for spring enjoyment!
Spring is sure to be a great time in our neck of the woods, so why not come along for the ride? You might just end up walking away with the home or lifestyle you have always longed for. For more on how to RVSP, visit brunswickforest.com or contact us at 833-497-1001, and we will see you here!