Start Your New Year Off Right: Coastal Discovery Tour
January 6, 2021
ISWebmaster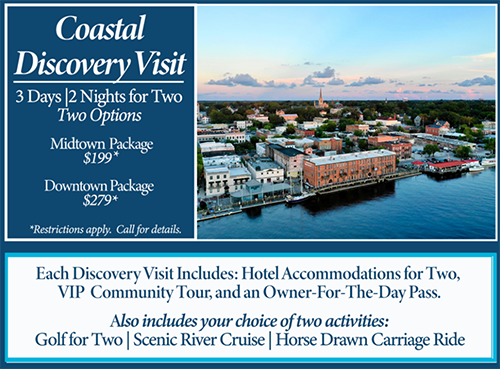 Happy New Year! 2021 already has a lot on the horizon for us at Brunswick Forest. Expansion and development of neighborhoods and the areas surrounding The Villages Town Center are amongst a few of the updates we're excited about. For the past, several years now, the Leland area and greater Wilmington, North Carolina continue to be extremely desirable areas to move to and start a new life. Studies by United Van Lines show that Wilmington, North Carolina was actually the number 1 inbound city for relocating homebuyers. If you are considering relocating as well, our Coastal Discovery Tour is the best way to experience our lifestyle firsthand.
Start your new year out right by allowing yourself to be Coastal By Nature®. We are sure you have heard the stories and seen plenty of media talking about the advantages of moving down to the Southeastern area of North Carolina. If you have been following along with our community updates, you may have already seen us talk about the advantages of booking your own Coastal Discovery Tour before. But for those who have never heard of it, let us paint the picture. Imagine yourself sitting at home and thinking to yourself, "It's a new year and a new chapter beginning in my life. With all that happened in 2020, I want to start enjoying things more. I think I could achieve that by moving to a quieter area with plenty of open and natural spaces to enjoy. I'd really like nearby amenities that will enhance my lifestyle." So, the only remaining question is this: how do you get started? Well, a Brunswick Forest Coastal Discovery Package is a perfect place to start. It is like a mini vacation where you seek to discover your dream home. You can take your time exploring our neighborhoods, preferred builders, amenities and the beauty of the surrounding Wilmington area. Our agents will be ready to help you or guide you to best experience what life here has to offer.
It is three days and two nights of you getting acquainted with living the coastal side of master-planned living, and we always have room for more to join our family! Your visit earns you hotel accommodations, a VIP tour of Brunswick Forest, and as stated above "owner for the day" privileges. The Coastal Discovery Tour allows you a choice to enjoy two of these following activities: a scenic river cruise, horse-drawn carriage ride, or a complimentary round of championship golf for two at Cape Fear National – located in our community.
Start your new year off right and sign up for a Coastal Discovery Tour at Brunswick Forest! Learn more about how you can book with us by contacting our team at 855.983.9579