Brunswick Forest's Available Properties
September 9, 2020
ISWebmaster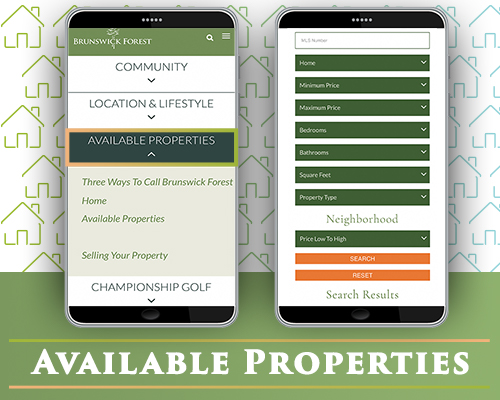 You're in search of your dream home, but don't know where to start. Some communities give plenty of choices and others may not. Brunswick Forest proudly offers a wealth of fine homes from no less than 10 amazing builders. So, if it is variety you are looking for, there is only one place to go, Brunswick Forest's Available Properties Page!
Each prospective homeowner has their own vision of their ideal residence; your wants and needs varying based on the type of lifestyle you prefer. Purchasing a home that facilitates this notion is part of the value that Brunswick Forest offers.
If you are looking to relocate to a new environment, there is no doubt a whole host of questions that you have been asking yourself. "Which home would be the right fit for me? What builder will have a process that accommodates my needs the best, and where do I start looking." Look no further than brunwsickforest.com and the digital resources that can help you achieve your goals. The available properties page can guide you in helpful directions, such as the three ways to buy a home, selling a home within the community, and of course previewing new properties to visit.
The Available Properties Page is a great resource that will help you find your ideal home. You can search for a home quite accurately by making criteria selections to filter down the available properties: listing number; home or homesite, price range, home features, neighborhood and more. So, what does this all mean for you? It means that moving on to the next step in the homebuying process is that much easier than it was before. You can look up one or several homes to show your agent and ask for further details and even a tour.
To make your life even easier, Brunswick Forest has several Homes to Tour virtual videos of models on their Facebook page and website to help guide you further. These videos make you really feel like you are getting a first-person perspective of the model you want without leaving your own home. While you are at it, feel free to peek at Brunswick Forest's Coastal Homes Showcase flipbook or choose to visit us. You can do so during the Coastal Showcase Weekend (September 11-13,2020 or sign up for a Coastal Discovery Tour anytime.
Whatever you decide, the Brunswick Forest team and the available properties page can point you towards your next step in a hassle-free way. Contact the real estate team at: 855.983.9579