The Value of Being Coastal By Nature®: What does value mean to Brunswick Forest?
August 19, 2020
ISWebmaster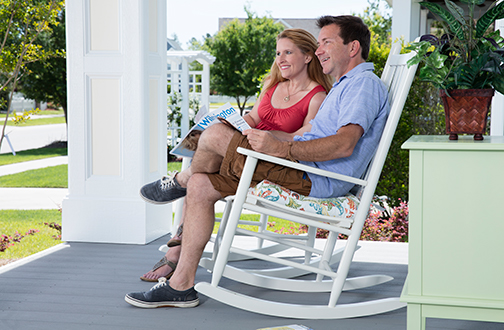 Many homebuyers scouting master-planned communities might deem nearby accommodations, such as dining and shopping, to be the most valuable component. Others may be more focused on the access to a host of amenities. Furthermore, prospective homeowners might value a variety of options for builders, floorplans and neighborhoods. We at Brunswick Forest see value as the overall quality of life our team can give you, including the aforementioned desires of most aspiring homebuyers.
When you choose to live here, you gain access to charming homes from 11 preferred building partners that are known for their quality. Homes at Brunswick Forest are robust, versatile, require low-maintenance, and offer you a wide variety of personalized options. Your floorplan, location and minimal upkeep requirements will greatly benefit your daily quality of life. That value is only compounded when factoring in the proximity of 10 amenities and our 160-acre town center that offers shopping, dining, healthcare and other professional services.
For those touring communities, you will find immense value in our Coastal Discovery Tour and our Coastal Showcase Weekends. You will be cruising in style and comfort as you are taken through all the major neighborhoods. We have dedicated agents to ensure all of your questions are answered and you get the full experience of what our Coastal By Nature® lifestyle is like. The ample time to independently explore the major areas in and around Wilmington is also a big plus.
Brunswick Forest also defines value in how our partners and broker associates are treated. We often create and provide new and useful digital resources for our partners and will travel to their offices to present. Creating the best possible discovery experience for future homebuyers and brokers is a priority for us, and we often go the extra mile to do so.
Another valuable benefit to becoming a Brunswick Forest resident is the personal connection amongst the community members. You have access to and can partake in a multitude of resident clubs and resident-sponsored activities. If you have a specific interest such as gardening, fishing, golfing, writing and so on, you will find others who share your passions. There's also plenty of activities and community events that will give you plenty of opportunities to mingle with your neighbors and make new friends.
Brunswick Forest always offers a wide variety of options and personalized experience as their gold standard. If you are ready to start the next bright chapter in your life, the real estate team at Brunswick Forest cannot wait to speak to you. Come and see what true value in a master planned community is about. Contact them at: 855.983.9579