Brunswick Forest's History of Growth
November 17, 2021
ISWebmaster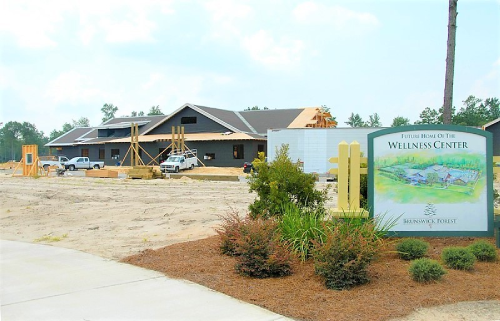 Every great story has its start somewhere. For Brunswick Forest, it all started with a patch of dirt out in Brunswick County before the great amounts of development present now even took place. Where others saw pines and sand, we saw the potential to become one of the most beloved master-planned communities of its kind. Now, over 14 years later we have evolved to establish ourselves as an award-winning 4500-acre retreat of homes that has welcomed thousands of homeowners.
Planting Our Roots
Some of our real estate agents, like David Kubes, can remember back to the times where "Brunswick Forest" was just a name on a site plan in 2007. Where a single sales trailer was the only building to be found on site. But we saw that it was surrounded by an incredible amount of potential. It was a dream and a vision, that was based on one solid objective: "How can we give homeowners the perfect community to complement a lifestyle on the coast?" Through that commitment to give a better living experience, we wanted to promote an atmosphere that involved no difficult choices or unneeded stress. In that manner, all our neighborhoods began to take shape in the early 2000s, and development began sculpting the land into something extraordinary.
Our Vision
We wanted to offer something more than just a nice place to live. Our vision was to include several amenities and wide green spaces to encourage an active lifestyle that makes the most of the coast. What started as one or two amenities has grown to a list that includes over 20. One of those was our very own connected town center, to ensure no resident ever had to go far from home just to eat or run errands. Reflections at Brunswick Forest, coming later this year, will be the latest new amenity.
Over time, this vision began to grow into something that even the top builders in the nation couldn't ignore. They saw the ideal area and brought along a variety of building options that gave us a unique identity. If a homeowner had a particular vision about the dream home they wanted, we would help bring it to life. Brunswick Forest began with a desire to offer unmatched variety in both floorplans and active lifestyle choices, and we continue that tradition to this day.
Neighborhoods and Amenities
Our first neighborhoods included enclaves like Shelmore, Meadow Park, Cypress Pointe, and of course the magnificent Cape Fear National, including our championship golf course. The golf course itself needed to be five-star and give our residents the option to play something north of Myrtle Beach. Each neighborhood in Brunswick Forest was planned to have individual identities that served a variety of living styles. Our homes were strategically zoned to best reflect this. For example, those who are looking for a more secluded area that invokes luxury could choose Cape Fear National. Other residents who sought casual sophistication would find a home in Shelmore. Since the early days of Brunswick Forest, we've developed a total of over 10 major neighborhoods, with two more final additions on the way: The Peninsula at Cape Fear National and Heron Pointe.
Our Residents
More than anything else, the history of Brunswick Forest lies in the residents who have come to call our community "home." From the first 100 residents, to the several thousand that now reside here, Brunswick Forest has become an enclave where dream homes are obtained, and memories are made. Over the years Brunswick Forest's community spirit has grown to a presence so large that all the greater Wilmington area has felt it. From ALS walks over in Long Leaf Park, to club fairs where residents share common interests, and charitable events like Toys for Tots and Hogs in the Forest, our residents are what makes this community special.
Our residents drive the interest here, and even encourage friends and relatives to check out our community for themselves. It's our homeowners that have proven in time, to be our biggest advocates. So, if you're ever here during a visit, all you have to do is take a look around. The people who have made Brunswick Forest home is our living history and growth.
Looking Back
As 2021 comes to an end, it's amazing to look back at where we started and what has been achieved. We've gone from an undeveloped area that had endless potential, to being a community that has consecutively won award after award, and consistently wins a spot in the best of the best list from ideal-LIVING Magazine. We took our team's dreams, as well as those of our residents, and made them into something tangible. Time may march forward, but Brunswick Forest continues to evolve with the towns around it. It's a story worth being proud of, and one that we love having you be a part of. If you're looking to join our family here, stop by and see what over a decade's worth of developing history has to offer with our Coastal Discovery Tour. Or contact us at 833-497-1001.